Gerald, 50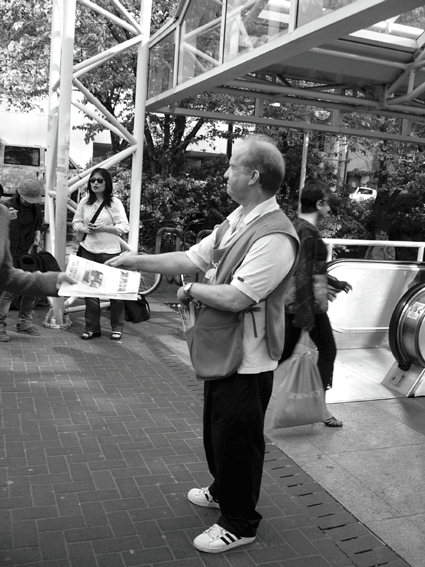 By Chuck Ansbacher
Monday May 15, 2006
Gerald passes out copies of 24 at the Burrard Skytrain station. He's 50.
A few days ago I did some work on my bicycle at that spot on Hastings and got my hands all dirty, so I dipped into the bathrooms at Victory Square to give them a wash. I brought my bike down with me, and just as I leaned it against the wall, this old guy taking a piss in a urinal turned his head and yelled "no bikes!" in this gruff, old guy voice. I just stared at him. Again, he yelled "no bikes!" Crazy dude. "What do you, work here?" I aked. Then he turned around and showed me his name tag. He was the bathroom attendant. I felt like a dick and apologized lots. I wanted to talk to him in here and let him bitch about things, but when I went there to interview him he wasn't there. Bummer. So I went to the Burrard SkyTrain Station and interviewed Gerald instead.
Only: How does it feel to be working for the number one paper in Vancouver?
Gerald: It's good. It's a fun job.
Only: Nice to be outside during the summer?
Gerald: Yeah, but it's horrible in the winter.
Only: How do you stay warm during the winter?
Gerald: Uh… you dress warm. Try to keep dry.
Only: You're usually here with someone who hands out the Metro too, right?
Gerald: Uh…no. No, I've never seen a Metro.
Only: Do you ever talk to anyone handing out the Metro?
Gerald: I've never even seen one. They're different time schedules than us.
Only: Well you guys have better Sudoku puzzles.
Gerald: The who?
Only: The Sudoku puzzles?
Gerald: ...
Only: You never do the Sudoku puzzles?
Gerald: No.