ART FAG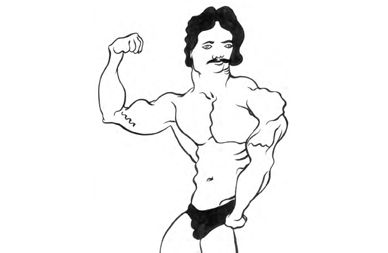 By lili
Friday January 11, 2008
Seeing as the sugar and alcohol of this season's celebrations have worn off from everyone's poorly hatched New Year's resolutions of abstention, we can all get back to work at this art thing. Obviously, ample time has been given to this because several shows worthy of your attendance are happening this weekend.
Friday's schedule is empty except for Sean Maxey's show at Little Mountain Studios called "Up Your Bench". This show, which starts at 7pm, is destined for shit tons of fun as there are "shit tons of bands". Multiply this by an amazing visual experience fostered by Sean's 40 plus ink drawings about "men working with, about, and for other men." Go to this. Trust me, it'll be worth the hike.
You'll all have to be organised for Saturday (and not too hung over) if you want to get it all in. I recommend starting your day off at Republic Gallery (732 Richards St, Third Floor) where Carol Sawyer is having her opening called "Vacant Lot". The opening, which investigates the piece of land that used to be a part of False Creek before it was filled in 100 years ago, is from 1pm to 4pm, so don't sleep on it. (GET UP! The day's are getting longer!)
If painting is more your cup of tea, then I would suggest heading out to the Atelier Gallery (2421 Granville st.) to check out Brad Woodfin's show. This opening, which is also in the afternoon from 2pm to 4pm, is in a private gallery so I believe it will include free alcohol and food. It may make the journey worthwhile, if his paintings of deer, sheep, hares and dodo's don't.
OK, I'm going to tell you about this next one because I don't want to discriminate, but I have to be honest… I'm super skeptical. I think I would absolutely detest this show if I went to it. The write up made me nauseous. Anyways, also on Saturday afternoon, Susan Bozic is having an opening and book launch at the SFU Gallery called "The Dating Portfolio" from 3pm to 5pm. If you can't make it to this then you can check out her artist talk on Wednesday at 7pm in room 1600 of the SFU Vancouver Campus (515 West Hastings St.). I'll try and hold down my dinner.
Saturday night only has one art show, and it is one I think everyone should attend as it is his confirmed homecoming show. Nicholas Pittman has come back to Vancouver to show off his new paintings. The exhibition of these new works is hosted by Blanket Gallery (6-758 Alexander st.) from 6pm to 9pm. So go and give this fucker some props (fucker from me is a term of affection if you don't already know. I actually caught myself yelling it from across the street at someone today.)
So that's the schedule for this weekend. I think it's pretty good since it's been a bloody artistic ghost town around these parts lately. Also, if you want to send some love overseas, we have some Vancouver peeps showing in Berlin on Saturday. Trevor Larson and Only's very own Martin Thacker are a part of a group show called "MMVII". So yeah, I just thought I'd let you know if you didn't already. I'm going to eat a sausage and think of them…