The Carnegie Public Library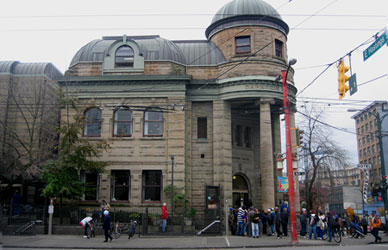 By David Look
Monday November 26, 2007
Not since keeping a copy of Thoreau's Walden 234 days past due, casting me into a state of ill-repute with the public lender, had I set foot in a library. However, once I caught whiff of the $1.75 entree being offered on the second floor of the Carnegie Library (401 Main Street) I decided it was time to make amends with the civic bookshelf and get some lunch.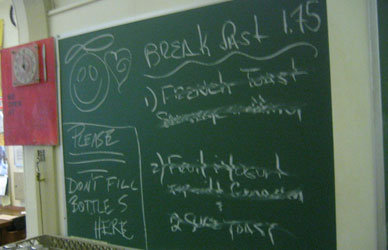 Acting as the last bastion of functional sanity on the notorious corner of Main and Hastings, the Carnegie Library–Vancouver's first library–has survived here since 1903. Its colonial architecture and stone pillars put on a show of defiance and unwillingness to give up in the face of a community in steady decline. Making your way to the front door of the library is like navigating your way through a crowded red carpet greeting of drug addicts, dealers and people without homes in various stages of intoxication. The interior is beautiful though, and features a winding stairway lined with stained glass murals and glossy white tiles. The whole concept of the public library is at its most impressive within the walls of the Carnegie. My visit one Saturday afternoon found the large reading rooms full of people resting, talking and reading the small collection of materials kept on the first floor. The building also houses a community centre, art gallery, seniors centre, auditorium, gym, dark room, pottery studio and, of course, a kitchen.
True, I have found myself in many a precarious dining arrangement as your storied Food and Drink Editor, but this was without doubt the closest I had come to assuming the lifestyle of a person of no fixed address. The assembly line serving style and collection of volunteers that were dead ringers for reformed inmates, combined with my post-noon hangover, had me unexpectedly humbled and ready to bail. I felt a bit silly standing in line at the Carnegie, perusing the chalk board menu offering a beef or vegetarian curry with a camera stuffed in my pocket ready to use the experience as fodder for Only. As I stepped up to have a healthy portion of the vegetarian curry slapped onto my white plate with a big metal spoon by a guy with a braided pony tail down to his ass, I wondered if this meal was going to be outside the realm of scrutiny. The weight on my server's brow had me fantasizing about how many people he must have murdered until I remembered that this was in fact a Library and not a jail.





But these feelings were quickly forgotten after a few bites of my lunch beside a big window with a view of Hastings Street and the Empress Hotel below. The curry had a surprising kick, and was full of green beans, chick peas, yams and raisins, and was served on a bed of couscous with a cold cucumber salad and green grapes. Watching people get their lunches, I could surmise that the rest of my party was made up of resident locals desperate for food and a secret society of advantageous eaters who appreciate low cost dining in a unique and historical setting. The seating at the Carnegie is communal, and the topic of conversation at one table was that of the pending Grey Cup football match between Winnipeg and Saskatchewan. "Winnipeg all the way…" one diner quietly trailed off to turn their head to the view out the window, which garnered a mostly ignored and delayed response of "Winnipeg hey? Their quarterback has a broken arm, how do you think a thing like that is going to happen?" The conversation ended in a pause of silence that was in no hurry to resume itself. Everyone seemed to be taking refuge from the craziness outside and were reluctant to get on with the day even though their plates had long since been cleared.





Just over 153 years ago, American author Henry David Thoreau retreated to a simple cabin in a small forest by Walden Pond in Massachusetts to muse on the excesses of life and the pursuit of wealth over things that really mattered. My borrowing privileges at all provincial libraries are still suspended for keeping his book, Walden, for so long. Still, upon my visit and after a delicious lunch, I couldn't help think that the Carnegie Library was my cabin in the woods, where basic necessities like social interaction without pretension, services based on need rather than financial gain and cheap, hot food with quality ingredients were isolated and heightened. Sure I might be banned from borrowing books, but I can still nurse a hangover with a spicy curry and the newspaper for under $2.00, which will make paying back my fine to restore my borrowing privileges that much easier. Or maybe I'll just work it off with some volunteer time behind the food line, get some tattoos, grow my hair, spend my days lifting weights and fabricating the legendary criminal past of a delinquent borrower. I'm also good with a spoon.