Killer Deadly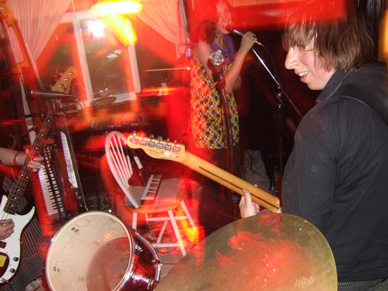 By Sarah Cordingley
Thursday August 23, 2007
TRY
LICKING
THE
STREAMERS
Nu Sensae managed to clear out Casbah! at the Library Square Public House last Friday. I can't imagine why the regulars didn't get into Andrea's angry, grating gnarl. Cheerleader Camp finished the job off and left just a handful of the most tolerant to watch Modern Creatures.
Maybe this Friday's line up will be a bit more bearable for the affluent misfits that still end up there on a Friday night. Adjective are catchy enough, and the one song I've heard by 16mm made me think they're like a bit of a post-punk Savage Garden. Suspiria are pretty intense, but maybe it'll be just enough to get that weird space moving. And by the time they play the rich people will be drunk.
What could be more summery than a classic East Van house show in the pouring rain? Last Sunday Nu Sensae, Terror Bird and a band from the UK called Gertrude played at a nondescript punk house near Trout Lake. I think they call it the Library. The massive porch would have been perfect if it wasn't for the freak rainstorm. Nothing like cleaning up after a party when it's raining out. Mud central. Anyways, Gertrude played some cute crafty art punk and everyone seemed to have a happy time talking about how undemocratic police are.
Tonight (Thursday) White Owl, White Christians, Search Parties and Lepers play at Pub 340.
But if your up for something a little more smooth, you might try Only Magazine's own Yacht Rock party at the Royal Unicorn Cabaret.
On Friday, Doers do what they do best, play an all ages show. Special Noise, Cheerleader Camp and Greenbelt Collective will do it too, and it all goes down at the Ukrainian Hall in Strathcona. And just a few blocks away Bison, Jaws and China Creeps will play their metal where it belongs, at the Cobalt
Gay Beast, everyone's favourite skronky noise pop from Minneapolis come to play at the Secret Space on Saturday. They play thrashy new wave that's choppy and meandering all at once. Shearing Pinx, Cheerleader Camp and Petroleum Byproducts will play with them. The Secret Space is an awesome place that's dark and wooden and elaborately decorated. Try licking the streamers. It will remind you of the fondness you had for putting things in your mouth when you were a child. My favourite was the dry macaroni that was meant to be used for counting and crafts. Crunchy!
Also on Saturday: Dandi Wind plays at the Royal Unicorn. It's been a while since we've had a homecoming show from this costumey lady. Maybe time has healed the rift between her and the 'Couve. Maybe not.