BMW Makes a Mess on Sasha Grey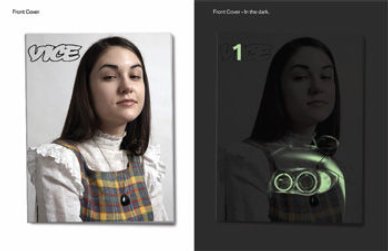 By Chuck Ansbacher
Thursday April 3, 2008
Yesterday we picked up our new copy of the April issue of Vice with 19-year-old porn star Sasha Grey on the cover, and took it home to "read" in the privacy of our darkened office. Unfortunately our browsing was interrupted by a luminous green hue that could not be attributed back to our own organic matter. A quick on and off of the lights revealed something resembling a car glowing in the dark right on the cover. So, April… fool's? Apparently not. We did some internetting, and it seems BMW actually paid to have this futuristic advertisement reveal itself on the cover of the youth-oriented publication, but only when said publication is rendered unreadable, in the dark. Genius.
Since the issue of selling out has long been redundant over at Vice, there hasn't been much of an outcry. They are after all the folks that brought you that phenomenal What are U in 2? booklet that Calvin Klein dumped in Vice last year, as well as that weird package of fake human hair that Toyota inserted in their most recent fiction issue. If anything, Vice has proven to be a shameless trailblazer for innovative corporate advertising in recent years.
"The chance to work with one of the top brands in the world meant we had to step up and bring something that, to my knowledge, has never been done before," Vice director of sales and marketing Shawn Phelan told the Canadian marketing magazine Strategy. "Maintaining the integrity of our cover – which is not usually for sale – while delivering a unique and rad brand message for BMW was an amazing challenge."
Rad brand message indeed. What is arguably the raddest thing about the
BMW
ad is that it is juxtaposed over
Sasha Grey
(
VBS

did some stuff on her too
), who is definitely the raddest porn star on the market. Not only is she super young and completely natural, she's also all about S&M and extreme hardcore sex and licking toilet bowls and basically up to every sexual challenge imaginable, which is admirable.