Co-opting My Religion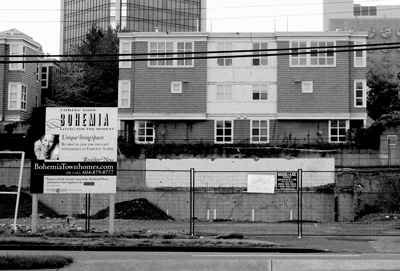 By only
Friday January 28, 2005
Don't sell out, buy in
The denouement of every Vancouver Fringe Festival media schmooze is a few examples of several shows, randomly selected. Two years ago it resulted in the then Executive Director being de-pantsed by one of the performers as a demonstration of what could be expected in her show. To the joy of all, the then Executive Director complied with the sweet dominatrix's demands to also remove his gonch.
Last autumn's samples ended in a much less amusing message. A guy, dressed like a property developer who wished to dress 'artsy,' gave a long, rambling monologue on the concept of 'space.' Space to move, to act, to, oh, be arty. The developer/dude then introduced us to Vancouver's planned tallest building – the Fringe Towers. One hundred floors, featuring a 200-seat theatre in the sky and located right downtown. Also, there would be several hundred condos – but not for actors or writers. A pall fell over the crowd. Fringe Towers was not a joke, it was merely the newest plot to throw a veneer of art over rampant land speculation.
Building heights in Vancouver are set artificially low to protect the views of people in other parts of Vancouver *** cough *** the west side *** cough *** and to protect the light channels. Stand in the middle of Burrard or Granville and look towards the mountains – you'll see the buildings settle back away from the street the further north they get.
There are only two legal ways to queer the rules. One, buy airspace from a heritage building and add it to your planned, shorter building. Downtown churches have added a few decades onto their lives despite dwindling congregations merely by selling the space between themselves and their god.
The other way to get City Hall to let you colour outside the lines is to have some sort of cultural amenity. In Fringe Tower's case, it is a cheque to the Fringe Festival and a 'lil theatre. The Vancouver International Film Festival took their silver by taking office space in Brava! on Davie and Seymour. They get free office space and a l'il cinema for themselves. The Brava! people get millions more in extra condos.
Condo developers love attaching their building to palimpsests of artists living in cold garrets. Bohemia, Picasso, Mondrian. They create an allure of living like an artist, toss a minimum of support to an artist corporation somewhere else for use of their name, and price themselves in a place an artist can get to only in an Absynthe dream. Are there no other professions that cannot be co-opted into stylish living? "Me? I live at the Solicitor and Barrister. Yourself?" "My fiance and I just bought a loft at the Actuarial. It is so much more Strathcona than our old place at the Menial Labourer."
A young friend of ours tells us of living in a live/work artists' loft off Main Street. A few months after moving in, the new strata council of the building meets: "No more art in the hallways," they decree. "It looks unprofessional." "Also, no sculpture that requires grinding or metalwork. It's too noisy." The strata council consists entirely of lawyers who have bought into the building. Our young friend asked the president of the council, "Why did you buy into an artists loft, then?" "I am an artist," came the reply. "But I keep my day job as a lawyer to survive and it takes up all my time."
Surrey – and it had to be Surrey – is the home of the sole condo that successfully merges art with condo living with reality. Located on King George highway, this condo celebrates life while respecting fantasy. It's name? Melrose Place.