Twin Crystals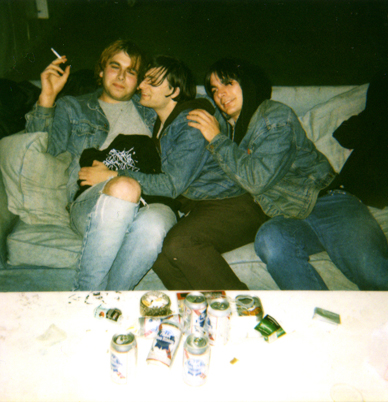 By chloe
Wednesday December 12, 2007
Twin Crystals' jam space/family home is right next to the Emergency Room, which also houses Jordan's recording studio. As I was waiting in the rain to be let in between songs being practiced, I remembered how much I love listening to these guys play. There's something about their dance-beat drums (Jordan) on top of killer synth/guitar (Jer ) combined with Jesse's heartfelt vocals that just makes it for me. It's safe to say that no other band could play their songs in the same way. Hanging out with these kids, jamming out and drinking PBR was golden, and I'm sure that they will SLAY Richards this Friday when they play with their biggest fans, Glass Candy.
ONLY: I've been reading your tour blog stories. How did they find you for the gig in Napa?
Jesse: I just posted 'need show between these dates' and this girl emails me. Her profile picture was a thin white shirt with her nipples out. I was like, this is going to be the weirdest show ever.
Jordan: She made us play with our nipples out too. That's why Jesse has so many holes in his shirt: too many nipple out shoes, drunk off foot wine.
ONLY: Any other ridiculous tour stories?
Jordan: Night Wounds had this game – because they had been on tour way too long together and they were starting to do weird stuff. In this game each person gets a boxing glove, you can't use the other hand and they would just wail on each other. One of the members had a game where you could only hit someone if you were on a skateboard, so the singer is on this country road, on a skateboard trying to hit everybody and nobody wanted to fight the singer.
ONLY: You never want to fight the singer.
Jordan: No, you do. You do… but you just don't.
ONLY: Bad things can ensue
Jordan: The singer has the firing veto, I've seen Almost Famous… No, Russel actually has the power…
Jeremiah: I thought that was Country Bears. Great movie.
Jesse: So punk.
ONLY: What kind of car did you guys take on tour?
Jordan/Jesse: Jeremiah's car.
Jeremiah: A red Pontiac Sunfire.
ONLY: So it was small?
Jordan: Total jalopy
Jeremiah: It was a good car, got it for $200 and it got us down there and back, plus a lot of other things. It's in the grave now though.
ONLY: Should have salvaged a souvenir.
Jeremiah: That's one of the hub caps over there
Jordan: We use it as a snare sometimes.
ONLY: Memories, they work.
Jesse: Jer Bear's got a tattoo of that Pontaic.
Jordan: And all of us are hanging out of it.
ONLY: Is this Glass Candy gig going to be your biggest show to date?
Jesse: Well I guess so. There was the last Glass Candy gig, and this show with Pride Tiger in Whistler.
ONLY: Shit, Pride Tiger and Whistler? Was it a bad move?
Jesse: We looked like maybe Gary Newman, and they looked like Bon Jovi. There was a Vice party at Whistler, it was fun, I shook all their hands.
ONLY: Like after a game of hockey when one team wins and one team loses?
Jesse: I'm more into sports from the UK – football, Nottingham, Manchester… the street corners of Manchester.
[At this point my recorder completely broke, and picked up with me saying…]
ONLY: …so you were piercing Al Gore's nipple?
Jesse: No, I was talking about Darby Crash. He likes to cover his eyes 'cause he does too many drugs. Darby Crash looks like Nico. Darby Crash was gay. And Darby Crash is way cooler than Ian Curtis.
Jordan: Don't write anything we didn't say.
Twin Crystals play Friday the 14th with Glass Candy at Richard's on Richards.