Beyond Boobies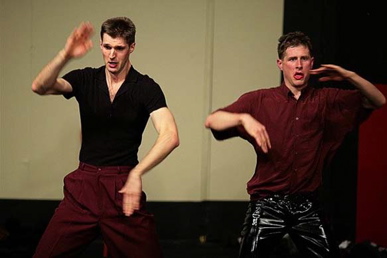 By sasha
Wednesday April 4, 2007
Live sketch comedy shows are unpredictable. It's all too easy to arrive with high hopes and have them mauled with crass humour finely tuned for the receptors of only the rowdiest audience members, while being left guiltily daydreaming of something beyond jokes about boobies and penises. Luckily, the Cody Rivers Show can fulfill this fantasy.
Part of last year's "Pick of the Fringe," Mike Mathieu and Andrew Connor have traditionally used elaborate costumes, props, and technical help–along with their mutual training in improv and dance–to accommodate their wildly unique sketches. Word on the street is that for their current tour they've left the props at home and are performing with no other tools for comedy than themselves. After a brief preview of this new endeavour at the Sunday Service this past week, it is clear that the duo are more than capable all on their own. With choreography and dialogue sharp like a katana, and transitions smoother than a baby's bottom, the Cody Rivers Show go well beyond what is required of them to make an audience laugh, with all sex jokes put to the side.
The Cody Rivers Show do 'A Poke in the Wound' at Beaumont Studios (316 W. 5th Ave) Friday and Saturday, 8 pm, $10.