ART FAG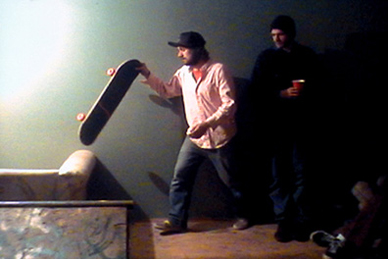 By lili
Friday November 23, 2007
OK. So here's the deal. I'm going to keep this short because my weekend has already started. There are only two openings happening so it's a do-it-yourself kind of weekend in that you'll have to make your own fun and art (I know I am).
Friday night is host to the only two openings this weekend and they both feature young local talents. The first on the roster is Alex Morrison who has an opening at the Catriona Jefferies Gallery. This current exhibition is based around his exploration into the staging of sub-culture and is from 7-9pm. I would say it is a must to go to.
The second opening is at the Equinox Gallery (2321 Granville st.) where Etienne Zack is having an exhibition called "Authorshop." This show is actually a little earlier so it may be a good place to start. Also remember that private galleries normally have free wine so…
Or maybe you'd rather exercise your brain tonight instead of your liver. If that's the case I would recommend going to hear the lecture by Lee Henderson at 7pm in Room 241 at the Emily Carr Institute (1399 Johnston st). The topic of the lecture is "Conscience in Vancouver Art" and is hosted by the Contemporary Art Society of Vancouver (www.casv.ca).
On Tues night local artist Andrew Dadson is having a solo show called "Evening All Afternoon" at the Charles H. Scott Gallery located in the Emily Carr Institute. The show starts at 7:30 so come and check out his work that delves into the relationship between architecture and the void of the suburban landscape.
If you time it right you can also attend the Colourschool presentation in the IDS building at the Emily Carr Institute on Tues night at 7pm. This weeks topic is "The Red Bridge, Art Practice, and the City: New Art Movement in Seoul and the Politics of 'Collectivity'".
Once again, on Tues night at the VAG in room 302 there is a free talk with gallery admission (get a membership!). The talk is with William Wood, an art historian and critic, on the legacies of photography, history painting, and modernity in regards to Roy Arden's work. This one will be much different than the Colourschool presentation so make your pick, but it is important to exercise your brain so go to at least one.
If you have the stamina to go to Paul Chan*'s artist talk on Wed. at the *Western Front Gallery (303 e. 8th st.) at 7pm, or on Thurs. at the Emily Carr Institute at 7pm, than your brain will be HUGE. He'll be discussing his recent work that explores topics of utopian thought, religion and how they manifest within a contemporary culture.
That's it. My brain is stronger. I'm ready to exercise my liver.