Orgy Of The Dead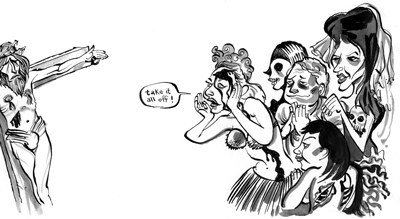 By Alan Hindle
Saturday April 9, 2005
Scabs Are Sexy
Easter Sunday is one of the most important of spiritual events around the world. The sanctity of Jesus "The Christ" Christ having ascended to Heaven to visit Dad for Sunday roast before popping back to Earth on Monday, is, well, sacred.
So, naturally, I went to the Brickyard to watch a striptease burlesque called Ed Wood's Orgy of the Dead followed by Black Sabbath cover band Sack Blabbath. If Lazarus had only squirmed out from behind the rock blocking his tomb in a g-string and tasseled pasties to do a little hootchie cootchie Christianity would be very different.
Orgy of the Dead, based sketchily on the film, has a clean cut Janet and Brad-type couple's car breaking down outside a graveyard, captured by a wolfman and mummy and dragged before the king and queen of the underworld, for whom a bevy of pretty corpses are shimmying their putrescent booty. A little more work needs to be done determining what is intended to be sexy, and making it pointedly more so, and what is supposed to be comedy, and honing that. These two elements can easily co-exist—this show is proof— but need to be focused on their particulars and then re-integrated. Some things, however, should not be touched. The trailer trash zombie who tears off her pasties to reveal nipples caked in painful red gore and then tap dances while tearing off strips of her own scabs and using them in a repulsive Dance of the Septic Veils was hilarious, gag-inducing, and, uh, so hot.
The dancers were outstanding because they were presenting brilliant comic/sexy routines of their own expression, with gusto and indulgent self-delight. They were having a ball and it came across.
Finally, Sack Blabbath, the lead dude from which was also the Brad guy from Orgy, put on a spectacularly fun set of Sabbath festivities— again, the joy with which they thrashed out the tunes had everybody spinning and banging hairdos.
Screaming Chicken's Orgy of the Dead was only a preview they intend to polish and present for a longer run in October, and while they have a Game Show/ Taboo Revue show coming up in May, Orgy will be needing a permanent venue and production financing to get off the ground. If someone were to put money into this gig they'd make it back and then some. The Brickyard was heaving on the night, the crowd drunk and screaming happy.
Burlesque is not actually about being sexy. Well it is, but let's face it— men are pretty easy. If a woman walked on stage with nothing but a fruit basket on her head, and just stood there balancing grapes and pineapples the men would still be writhing creepily in their own soupy sweat, calling for cheap beer and pre-folding ten dollar bills. We are just filthy that way. If you ever go to a strip joint, though, and happen to catch a genuinely sexy, lively, entertaining dancer you will notice something. She's not really dancing for the men. She's really performing for her friends sitting in the back away from the clientele, making secret in-jokes to make them laugh and (if she is to save her brain from the mush-inducing rot of her job) entertain herself. Exotic dancers have the same problem of any performer: They have to claim their stage, hold the audience's attention, have a beginning, middle, and an end to their act, and then an exeunt that gets them out of the spotlight gracefully. Obviously there are degrees to which they feel obliged to bother or can manage to succeed. Strip dancing is a hard fucking life and god knows they have the slimiest rooms to play. Burlesque, however, is just silly, filthy fun, and I'll be reminding you when the next Taboo Revue/Game comes round and in October for Orgy of the Dead redux.
See Screaming Chicken for upcoming stuff.