ART FAG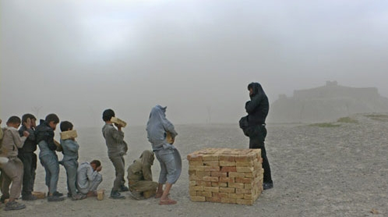 By lili
Friday January 18, 2008
I sometimes wonder if galleries base their opening schedule on other galleries' opening schedule. Take this week for example. There is only one opening tonight, and the rest – apart from one – are next Thursday. I suppose this could just be coincidence, but when thinking back to the past few weeks, the same pattern emerged. This is a curiosity for me. Do they do this to make it easier for everyone to get out and rub as many shoulders as possible? Or is it because they are in direct competition with each other? Whatever the reason, this is the scenario this week… again.
Tonight at 7pm there is a dual exhibition at the Catriona Jefferies Gallery of Kelly Wood and Monika Grzymala's work. The show, which is curated by Jessie Caryl, is an investigation of the "structuring, distortion and sensationalization of sound and space that can be inscribed in music and architecture." Basically, Wood is showing large photographs and Grzymala has created a site-specific installation. As always, Catriona Jefferies's events are a great way to drink some free wine and see some famous faces.
The next opening this week is on Tuesday night at the Charles H. Scott Gallery (1399 Johnston st.). Called "Trust in Me", it is a group show curated by Cate Rimmer about "magic, trickery, and the willingness to believe" so be careful if you smoke weed before going. Who knows what your fate may be then. The show starts at 7:30pm and hosts work by international and local artists.
OK, I lied. There is one opening on Wednesday that is worth going to. Lida Abdul's exhibition at Centre A (2 West Hastings) is a mid-career retrospective that is also accompanied by an artist talk on Tuesday at 7pm (Emily Carr's main lecture theater). Go to one or go to both, either way it looks like it will be good.
The first of several openings on Thursday is at the CAG called "Fastwurms". The performance and exhibition goes from 6-9pm and is a "visual cacophony of clichés and color coated icons related to Witchcraft and run through popular culture." This is obviously a fairly dense topic, so if you want to exercise your brain a little in this department then Tuesday at 1pm is a good place to start (611 Alexander St.).
The second opening is at the Belkin Art Gallery (1825 Main Mall) from 8-10pm and features the works from eight young Vancouver artists. The curators, Juan Gaitan and Scott Watson, chose artists' whose work "engaged the complex reality of urban life at the beginning of the twenty-first century."
I suppose I've dropped hints, but I think its super important to exercise your brain. I know it's my way of evening things out. Anyways, there is a series of artist talks every week starting this Thursday at ECI called "Theory is my Co-Pilot" and features some pretty fantastic artists. This week is Judy Radul speaking about her recent and upcoming work. The talks start at 3:50pm and are located in Rm. 301. Go.
So that's it. Go out and enjoy the week's events. I know I'm looking forward to some of these talks. I'm going to get me a big brain.