Beat Kids: Straight Outta Compton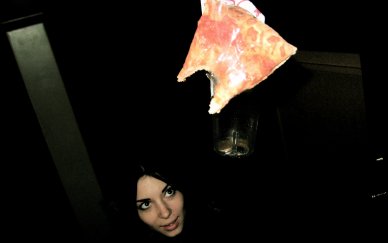 By chloe
Tuesday March 25, 2008
After last week's non-events, I decided to put my 'temple' through hell again this week so I would actually have something to write about. It could be stress (I have the rash to prove it), it could be denial, but it was very fun. You know me, I'm alwayz into somethin'!
If you know anything about holidays you know that the sole purpose of St. Patrick's day is to make everyone feel a touch of the Irish and say yes to that fat girl. I took this to heart and started off with martinis at Cafe Crepe, then made the trek to the Fox on Granville and the Cambie. As you may assume, my night ended drunk with a second Chloe drinking at my house. It was weird. Next year I'm straight hotel, motel, Holiday Inn.
Beach House played the Media Club Wednesday night, I missed the ticket sales and my editor missed the press deadline. Fuck the police! I was thinking of sneaking in but couldn't work up the gusto and went to Hey Soul Classics! at the Astoria instead, where Neil and Danny lulled my Beach House angst with all the MoTown favorites (and even some Johnny Cash). It's on again this week, bring some friends and a pitcher.
Thursday evening was the beginning of the long weekend to end all long weekends: Easter. If Jesus could be raised from the dead, I could drag my hungover ass out of bed and get something 2 dance 2. I started off my evening making some Easter cookies, then headed to the Royal Unicorn just in time to see Secret Mommy's set of wonderful tunes. The red and green lights really helped lift my spirits, and the band played a perfect set as per usual. After that I headed over to the Bourbon, which was over capacity. Some people had to wait 45 minutes to get in! I ended my night with some pass-out Jenga and more Johnny's. You know, they do deliver.
White Lung's homecoming show that was canceled last Saturday got moved to the Peanut Gallery this week. I was busy getting punched in the face by a street punk so I missed the set, but real bitches don't die so I made it out for the Emergency Room DJs. It was like the ER without the ceiling tiles, i.e. gansta gangsta. It's pretty ballin' that the Peanut Gallery is putting on some trill shows. We've been needing a new venue for months! After that ended, some people went to the 151 loft and even Krames showed up – never doubt who a long weekend will bring out!
Tonight Justice is coming back…. again. Yeah they rule, but I was in a Starbucks the other day and they were playing the CD. Diplo, however, will be fronting the after party at Caprice. Get yer drank on. Jason McLean will be showcasing his art at the ER between 6-9pm on Thursday after that you could be lulled by the jazzy pop of Brasstronaut at the Peanut Gallery, get belligerent with Master Apes, Vapid, Lord Beginner and Dead Ghosts at Pub 340, check out The Attachments, Plus Perfect and Jesse Matheson at the Astoria, or go to the Blastramp one year anniversary at the Bourbon. See you guys at the crossroads.