MELVYN'S: PALM SPRINGS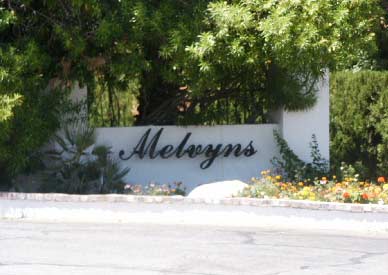 By David Look
Thursday May 1, 2008
"He's just the nicest, nicest, most genuine man."
How anyone gets anything done in Palm Springs, California, is beyond me. The heat's punishing lull of excessiveness this place doles out makes it nearly impossible to get out of the pool long enough to enjoy the culinary delights of the desert, never mind delivering a written piece about it on time. My role as Food and Drink editor during Palm Springs week at Only Magazine was to eat and drink my fucking face off. Which is exactly what I did. However, most it took place in the comforts of the house that Team Only rented in what's called the Movie Colony of Palm Springs. Frank Sinatra used to live just around the corner, same with Cary Grant, and Busby Berkeley too. Continuing on then, with the theme of celebrities at play, I went to Melvyn's at the Ingleside Inn. I was in Palm Springs, California. I was a celebrity at play.
Melvyn's is all about the approach. Through a gate, up a long and winding path in the dark, to a large white awning that stretches from the front entrance to shroud you in fantasy before you step inside. A gentlemanly figure with gray hair and impeccable dress was seated just inside the door. A quick peruse through the pictures hanging on the walls led me to the discovery that the silver fox sitting at the end of the bar, greeting guests by the entrance, was indeed Melvyn himself. I seated myself at the other end of the bar from Melvyn. With a perfect view of the heavy door, keeping reality at bay, I was able to watch the characters roll in. Young, old, and really really old, they all presented themselves to Melvyn upon entering. Loud shirts, sun torched skin, canes, wheel chairs, weird hats, and slinky dresses. There seemed to be no inherent identity to Melvyn's minions. Except that everyone looked wonderful. The sun does that.
Perhaps I should have ordered some food, but I was stuffed with poolside steak, so this review is drink only. The staff at Melvyn's is older, more distinguished, and formally dressed. They seem to hold court over the various rooms like keepers of a by-gone era in hospitality. I stayed in the bar. I drank dirty Martini's which were poured long, and packed a serious wallop. I small talked with the bartender. I enjoyed the nonstop show tunes being peddled throughout the room by a tuxedoed lounge act. I was so impressed by the old school pay phone in the bathroom, I called my mom on it. She sounded worried about me. What mother wouldn't when they get a late night call from their son in a toilet in the desert. Then I danced to an Eric Clapton song in the back area that is covered entirely by mirrors. The dance floor, just big enough for two or three couples to dance on, with a little string of lights that surround it, is just about the cutest thing in the world. Even cuter than me dancing by myself to Eric Clapton.
I had a conversation with the most striking woman of about 70. She had just returned from shooting an episode of the Brett Michael's reality show Rock of Love. "He's just the nicest, nicest, most genuine man," she testified, dressed entirely in white, giving me a chance to admire her decadence that was entirely California.
She was drinking Daiquiri's at Melvyn's. It made perfect sense. A parade of celebrities have spent time here, and Melvyn is pictured with many of them throughout the long and low room. Cher, looking slutty as usual, stands with no expression on her face in a seventies-era photo with Melvyn. And wow, John Travolta was actually kind of good looking at one time. If you were a celebrity in Palm Springs, you would have at one time been to Melvyn's. You would meet Melvyn, your picture would hang there. Your stomach, full, forever.
Palm Springs exists only for leisure. And what better way to view people than seeing them at their best, at leisure, eating and drinking. Here, in the sun of the desert, at Melvyn's, young and old can intermingle in a secluded and wonderful world of standards coming from the piano, couples in love slowly dancing, dim lights, idiots blasted on dirty Martini's dancing to Eric Clapton, and stories about Poison's front man Brett Michaels recounted by the grandest of dames. At Melvyn's, in the artificialness of Palm Springs, we are able to leave the reality of our daily lives because of the simple fact that we are there, instead of wherever we came from. Slowly escaping, up the drive and through the darkness.
For seven days I lived under the spell of Palm Springs. It didn't take long for me to introduce myself to Melvyn with the insistence of a picture on the wall like all his other celebrity guests. I wanted the spot beside Travolta. He was polite enough to oblige me with the compromise that the photo would be prominently displayed above the pay phone, in the toilet.
David's camera was broken in Palm Springs when he used it to brace himself in a fall from the hood of a Chrysler 300, therefore, pictures had to be stolen from the internet. We also apologize for the presentation of this article three days past the end of Palm Springs week. It was the sun. We couldn't do anything. Go there, you'll understand.