Fourth Quarter Rap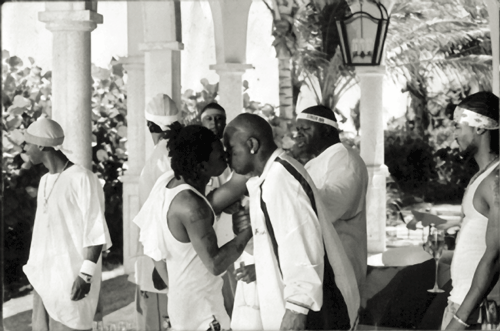 By alex
Thursday December 14, 2006
Whatever
I'm my own element. Like, if this was a bowl of fruit, I'd probably be a watermelon. You know what I mean? See, because Wu-Tang is like nine members. So one is a banana, grape, orange, pear–you know what I mean? I said watermelon 'cos I like watermelon. It's nice.bq.
–Ghostface Killah
As of November, T.I.'s King was the only rap album to go platinum in '06. Maybe it's because Latin broads and China dolls don't know how to download music [Editor's note: Maybe it's because you're a jerk]. Still, the 4th Quarter was heavy with rap releases this year, so let's bring 'em out:
L'il Wayne & Baby ­– Like Father Like Son
I didn't actually hear this collabo but I did see the picture of them kissing each other on the lips. They claim it's on some black mafia shit but really only gays kiss each other on the lips which is fine, but is black mafia the new gay then? Whatever.
The Game – The Doctor's Advocate
This album was aight but, like Bastid says, every song is basically "Yo blood, Dre told me that Snoop said that Scott Stortch is gonna bring Eazy-E to my birthday party." Too much name droppingness. Grow up.
Jay-Z – Kingdom Come
This was not very good–lyrically the ugly guy with the hot girlfriend was pissing his pants and crapping the bed like a three-year-old alcoholic. Hmmmm, I just thought of a moderately funny name: Peter Pants. Sorry.
Project Pat – Crook By The Book: The Fed Story
If Jay-Z is a bad lyricist, then Project Pat is the baddest lyricist everest. Except that he's awesome 'cause I like ignorant music. His choruses are hilarious and he's got one of the most original styles in all of rap. Dope.
Ludacris – Release Therapy
Luda albums are usually like a good funny sitcom because he's a good funny emcee. Usually I can listen to his albums three or four times like a Simpsons episode but I don't really care about watching this album again. Skip.
AZ – The Inspiration
Damn, I was really hoping this album was gonna be better. There are some jams on here and he can rap really good but I wanted more better. "Royal Salute" kills shit though.
Nas – Hip Hop Is Dead
From a DJ perspective this album is both useless and adult contemporary. On the other hand–Wow, Nas is probably the best actual rapper in the world right now.
Snoop­ – The Blue Carpet Treatment
I think that this album is good but I can't remember anything about it other than producer Rick Rock is obsessed with the Digable Planets and is "Vato" an anti-Latino song? Fizzle.
Young Jeezy – The Inspiration: Thug Motivation 102
I didn't used to like this guy but now I think his retarded style is hilarious, his extra retarded ad-libs are extra hilarious and he had good beats on his first album. This, however, is his second album.
Ghostface – More Fish
This album is dope, it's basically a Theodore Unit posse album but Ghost and Trife kill it. The crew's cracker rapper, Sean Wigg, on the other hand, needs to be killed. He does a song about playing poker for fuck's sake.
Clipse – Hell Hath No Fury
This is so much the best album of the year that it doesn't matter that they rock Bathing Ape gear which is pretty much nursery school patterns on adult clothes made by someone who collects toys and is endorsed by American crack dealers and falsetto singers who then inspire rich white kids and young Asians worldwide how to dress ugly without thinking. Serious, this album has it all–beats, rhymes and no filler, no fluff.
That's done 'cause I didn't care enough to hear the new Lloyd Banks, Fat Joe, Eminem's Re-Up project or the Diddy.
Shows: Q-Bert is December 23 at Richard's, Snoop and Ice Cube is January 13 at Pacific Coliseum.
Lastly, it's December so RIP Lee Avers Matasi & Alexis Mazurin.