Blacktime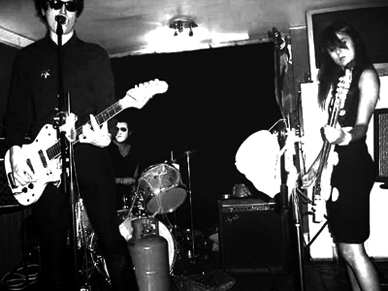 By Sarah Cordingley
Wednesday March 21, 2007
Don't Eat Me, Record Geeks
If you caught Crime kicking the shit out of Bo Diddley while listening to a pile of old Killed By Deaths and fucked up garage 45s in a room of broken glass, you might have an idea of what London's Blacktime sounds like. After two LPs (the latest on In the Red), countless singles and one failed attempt at a US tour (Lemmy Caution shattered his wrist a week before they were supposed to leave), these limeys are finally making it over for their first time on North American soil for a brief West Coast tour.
ONLY: When is blacktime?
Mr. Stix: Blacktime can be a good time like when we play a show or blacktime can be the bad time when the angsty songs are written ie: walking to work hungover in the pissing rain at like eight in the morning.
Lemmy Caution: The 30 seconds of deep black oblivion just before my alarm goes off and the next shift starts
Janie Too Bad: Blacktime is when the dance floor clears.
ONLY: What constitutes a good dance party?
MS: A swimming pool, a talced dance floor, a beer can sculpture of sorts, unlimited 45s and a pizza on the record player at the end of the night.
LC: There has to be just the right amount of people–too many *and it will get uncomfortable out on the floor and you won't be able to throw good shapes due to flying elbows, etc, too few and you'll feel like a dick shimmyin' about in the empty space. Same with booze–too little and folks will be inhibited, too much and it will be a pile-up of flying bodies and broken limbs (mine). Dr. Caution's scientific formula is: a 12 × 12 metre space, 10 close friends, one bottle of Cane Spirit, one case of premium beer, one early Kinks 45, one Link Wray 45, Shangri Las greatest hits, light fuse and stand well back.
JTB: When your hair and makeup are a mess but you stop caring.
ONLY: What is the first thing that comes to mind when you think of Vancouver?
MS: Moose, beavers and the Red Dragons.
LC: Pointed Sticks.
JTB: I imagine everyone looks like the Black Halos.
ONLY: Cramps or Crime?
MS: I'm a young naive boy from Africa so I don't know as much Crime as I do the Cramps. Don't eat me, record geeks.
LC: Crimps.
JTB: The Cramps because "Journey to the Center of a Girl" is one of my favourite tunes.
ONLY: Who would win in a fight: Tav Falco or Alan Vega?
MS: I would say Alan Vega 'cause he got a lot of crap from "punks" when he was first doing his thing and I can't see Tav Falco getting past the glove slap on the face stage.
LC: Tav, obviously. He'd give Vega a Panther Burn!!!
JTB: The thought of them fighting is too sad to think about.
ONLY: Does England really look at Canada like a little brother? Or more of an annoying cousin?
LC: As the only English person in the band I can testify that we feel inferior to everyone. Or maybe that's just me.
ONLY What makes Blacktime tick?
LC: Big Ben.
MS: Copious amounts of retarded energy: Lemmy falling over, Janie sleeping, Stix being stupid.
JTB: We've got all odds stacked against us playing in a band in London. Even just to rehearse is totally expensive and difficult, so it's really a miracle that we tick at all.
ONLY: Any high hopes or dreams for this US tour?
MS: Records, retro clothes, burgers, hot dogs, pizza, kegs and having a nice day.
JTB: I want to try the best breakfast place in every city along the way.
LC: Having tried and failed to get there so many times I'm no longer convinced America actually exists. I think it's a fictional reality created on a BBC soundstage and presented to the gullible British public as "imported" TV shows. If we do actually "get there" my ambition is to break through the studio wall of the Truman Show-style reality that has been created for the purpose of our "tour| and expose all you "Americans" as the bit part actors from Birmingham you obviously are.
ONLY: What are the merits of being in a band that wears all black?
JTB: Wearing black makes people look cool–punks, goths, ninjas and nuns alike.
LC: Hides the stains more easily.
ONLY: Lastly, fish and chips or burgers and fries?
MS: Generally fish and chips in London are crap but I got mad love for mushy peas. To answer your question: burgers and fries. It's more rock 'n roll food, innit.
LC: I'm vegetarian so it will have to be chips with a side order of fries.
JTB: Fish and chips with extra vinegar… deelish.
Blacktime, the Husbands (San Francisco) and Ladies Night (with yours truly) play at Pub 340 on Sunday March 25.