Stace Prints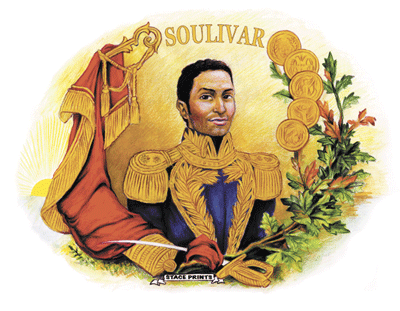 By only
Friday February 4, 2005
Soul Of Bolivar
By CASS ELLIOT
In the early nineteenth century Simon Bolivar led his guerrilla armies through the swamps, jungles and ice capped mountains of South America on a mission to free his people from the grasp of the Spanish empire. He managed to surprise the Spanish conquistadors and liberated the northern region of South America.
Now in 2005 Bolivar's spirit has been resurrected to inspire and help create Soulivar, a new EP from local hip-hop aficionado Stace Prints.
Stace is one of those guys that I've seen around since I first moved to Vancouver. I'd heard a couple of his beats (on Birdapres' last project) and wanted to find out more. We met up at Café Roma to talk about his new album; the location seemed to make more sense as the interview went on. Boxing, professionalism and cigars all figure in the mystique of both Roma and his new album.
Only: So you came up in the '90s, why come out in 2005 with a solo rap project?
Stace: I'm getting old, and the more I learned about the music industry the less I wanted to be a part of it. I know how the games works I've been through it before. I want to be like Sinatra, I want to do it my way.
The EP consists of five songs and all five instrumentals. The length being the only disappointing part of the album.
O: Why not just make a full album?
S: I wanted to make it like an old soul 45 where the songs were only 2 minutes long and they really left you wanting more.
O: The EP's called Soulivar, What's the story behind the name?
S: I used to smoke a lot of cigars, there was one type called Bolivar and from there I studied up on Simon Bolivar; who he was and what he stood for, as Bolivar had a mission to free his people from the tyranny of the Spanish empire this EP has a mission to liberate listeners from the shackles of the major labels and the tyranny of the music industry.
O: One of the tracks "Tomato Cigarettes" sounds real bluesy and the credits say it was recorded in Nashville how did you hook that up?
S: My sister is a country song writer and lives in Nashville, when I visited her last year I recorded the vocals at a studio where she was at.
O: On the title track you talk about a "black music rebellion" what does that mean to you?
S: Hip-hop is rooted in blues and jazz and I want to make music that pays homage to that, I find that a lot of commercial hip-hop deviates from the source.
O: What's up with Welterweight records?
S: I'm a big boxing fan and I've always had respect for welterweights because they're smaller but widely thought to be the best pound for pound fighters in the world. Its all about the little guy taking down the big guy, some David and Goliath stuff. I also wanted the name of the label to show that hip-hop isn't a team sport, you're in the ring all alone.
Pick up Stace Prints new EP at Beatstreet or at his show this Monday night.
Some big Hip-hop shows have just been announced. Abstract Rude will be playing at the Lamplighter for MondayNightLive on Feb 7th. Emotionz, Jaykin and Stace Prints will open up. Devin the Dude (www.rapalotrecords.com) will be playing at Sonar on March 3rd with the Chicharones and DJ Moves.