Killer deadly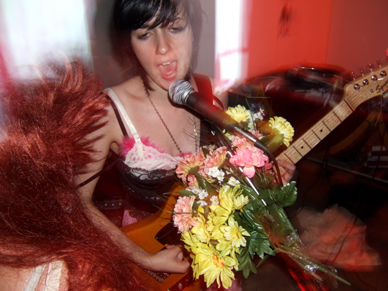 By Sarah Cordingley
Thursday August 2, 2007
BLOODY
FINGERS
The show at the Pub 340 last Thursday was really happening. The crowd was extra nice to No Feeling since it was their last show, and Cheap Time were an instant hit even though a third of their chiseled jaw-lines had to stay in the US. And even though the singer kind of accused me of stealing a t-shirt. The Lamps played a thorough set and turned the whole thing into a horror show with the guitar player's bloody fingers and clotty pick guard. I could have done without Haunted George, but he did give me a new understanding of just how many words rhyme–or sort of rhyme–with desert. I like garage shows because there are way more boys than girls so there's no bathroom wait.
Good ol' Casbah! relaunched at Library Square Public House on Friday. Certain Breeds were shy and awkward between songs but totally serene while they played. Their songs were interesting and they reminded me a little bit of Quixotic. Hallmark is Robert Dayton's new band, and this one is for serious. It's a lot like watching Robert do karaoke. But they're paying him.
The Secret Space hosted a nice show on Sunday and I decided that Petroleum Byproducts are the best band in the city. White Lung gave up mid-set because they couldn't hear themselves. Divas.
Tonight at the 340 will be awesome. Times New Viking are totally catchy psychedelic punk from Ohio and Little Claw are badass gothgarage from Detroit and/or Portland. They have a new record out on Ecstatic Peace. And our own Shearing Pinx are back from visiting many weird states.
The next new Casbah! is on friday with Japandroids, and Hepatidalwave and DJ John Cougar if this show doesn't send the bar staff and regular customers at Library Square into a fear-induced rampage, then I've totally underestimated them. Be there to see the drama unfold!
Nu Sensae does two in a row: Saturday at Pat's Pub with Twin Crystals and White Owl and Sunday [Correction: Monday!] at Alf House with Edmonton's Stolen Minks and Animal Names.
Woodhands brings some bloopity-bleep-bop to the Lamplighter on Tuesday and The Public or the Press will be there too.