Beat Kids: For Goodness Sake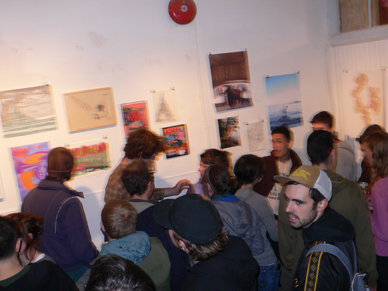 By chloe
Wednesday November 14, 2007
I love waking up on a holiday weekend with the sun shining and no voice. Did karma get me sick? I think this is the part where I'm supposed to be interesting and witty, ah, but maybe I'll just make fun of Sex Attack some more (jk).
So Thursday I dropped by the Bourbon to see the China Creeps play BlastRamp. I missed the set by ten minutes, so I went to the Railway with some buds instead. The funny thing was, I saw everything I was hoping to see in the five minutes I stood outside. This week they are having an air guitar competition that should actually be really fun, especially if you have been seriously addicted to Guitar Hero for the past year. I know I have, so I say bite the bullet and go. These Arms are Snakes are playing Richards tomorrow as well. Hopefully this will be better than I heard the Scratch party was Saturday.
Friday night Sex Attack played a REALLY impressive set of 90s/not sucky tunes at the Only Covers Show after party at the Astoria. It was definitely a great dance set to follow up Vancouver's best band, Petroleum By Products. By the way, who was Sheepbelly? Why were you there? Why would we want to hear Police covers? Anyways, the change up from dance-floor mania to tobacco chewing music was definitely unexpected… Adelaide, I barely remember ye, but I assume you sounded like east-van. No Gold, I love you guys but I have a hard time remembering that you are No Gold, not Yukon because you, Yukon, are all Yukon to me, Yukon. Yukon you… Learn new songs. But yeah the Gaff was pretty fun too. I wanted to rip all the preserved Only copies off the wall and take a gander. Yeah I said gander. It was like a polish bath, steamy, cold, steamy-cold. Steve Aoki packed Celebs, but the prospect of waiting four hours in line to pay 25+ dollars at the door to see some guy from LA, not my thing. Hope you all had a good time, I sure did. I swear this should be the Dustin Fan Column 'cause he's playing Hoko's this Friday, + Garret, The Canaries, Suspiria, and Hawaiian Bibles.
El Kartel hosted a party for the first release of some plastic toys called Bax Bears on Saturday. A bunch of artists from all over the globe painted them and people voted on the best ones. It was a definite shout out to Vancouver summer '06. However, I am jealous of those bears' first class flight to Hong Kong for another exclusive party! Crossed the street to the new new-rave spot… Cafe Crepe? Cheap pitchers aplenty. Caught Adjective's set at the Emergency Room, missed the Defecktors though. Cover songs for encores are great, especially when they sound exactly like the band they're covering. This Saturday, don't go to the Unicorn. In fact, if the idea does pop into your head, you will most likely have more fun putting your hand in a blender (stay safe kids). Go to Sex Attack instead (it's been moved from Frank's to No Tofu Studios).
Tonight Low B from Phillly is doing some after party business at Republic! Should be fun. There's also some polka dot party at the Unicorn, so wear stripes!