Beat Kids: The Week of False Promise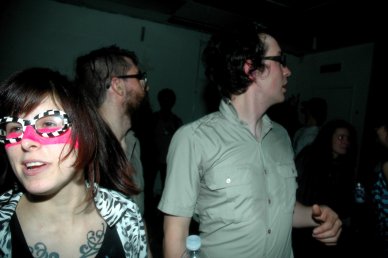 By chloe
Tuesday November 27, 2007
Petroleum By-Products, you've melted my heart and turned me into a "fan-girl". Please win Shindig. Also, have my children.
Speaking of Petroleum By Products, they fucking SLAYED Shindig last Tuesday. I love you, faints. DJ Huggs, go back to Montreal. Please. Tonight, I'm hoping there be more than eight very fashionable people dancing at the Astoria for Friendship. I'm holding out for you! Also, this evening go to Bronx Cheer at the Montmartre Cafe, because sketch comedy is life? Plus, Shindig. You can't forget about that!
Wednesday night there was the dance-hall party at the Makeout. They used the same flyer as last year's dance-hall party. Quotes of the night: "I never knew I knew so much reggae" – Mimi. "Murda she wrote, murda she wrootee" – Me. I don't know what compelled me to dance, but it happened, and it happened a lot. If you like Bruce Springsteen, head to the same place, same time, same night.
On Thursday I trekked over to Davie-town in the cold, only to wait an hour for the Paperbird show to get set up. That hour was followed by four "models" jumping on and off stage (aka a red box), talking to each other and shaking their bums. I have to point out that those brown satin shorts and that blue-grey dress made it tolerable, but please, request that your models wash their smelly underpants before they start cat-walking next time. After that tragedy, I headed down to Blastramp to take a peak at The Good News. Quote of the night: "Now, we're going to play something that isn't wack." – M!G!H True dat. This week The Clips are headlining. CBC3 is all over them. If you would rather do something like party,The Eh! Team & Team Canada are DJing at the Modern (7 Alexander Street). This management team of DJs from all over the Canada played the Livestock Block Party a few months ago and people got crazy.
Friday marked the 1-year-anniversary of that website that takes pictures of people. I liked the high-school party vibe, despite getting asked for ID at the door. Quote of the night: "Isn't this such a better turn out than the Sex Attack party?" – Lindsay (twiggy). In all honesty, I had fun. Andrew played a good set, and I'm not an asshole, really. No Gold, Colorbook, Basketball and International Falls all play this Friday at Pat's. This is Basketball's first show in ages since Luke went to Australia to find himself. I'd call hype, but I don't want to jinx it. Blim is screening Ken Russel's The Devils, which should not only be rad, but amazing. Seriously go see it!
AIDS Wolf made their triumphant (read: lack-luster) return from the grave at the Emergency Room on Saturday. These guys should stick to doing what they do best: screen-printing and hyping. As always, hype tends to disappoint… The Mutators, however, played a killer set. Go Vancouver! Where else do you see a show AND get a hair cut? This week Featherwolf, Sports and Small Fame rock out at the Astoria. Again, go Vancouver!