THE BAY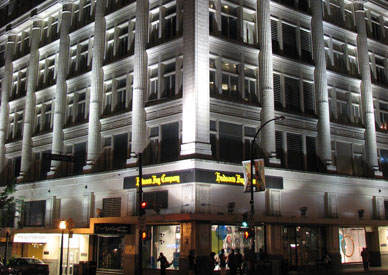 By David Look
Monday February 4, 2008
It's called The Seymour Room and it's located on the sixth floor of The Bay in downtown Vancouver. There are five other restaurants like it, each uniquely named with reference to the city in which they reside. Those five Hudson Bay flagship store restaurants create an imaginary route of pop pumps and carving stations that stretch from here to Montreal. One Wednesday night at the Seymour Room, I was to begin my journey; to eat my way across Canada, one dinner special at a time.
Such an event requires costume, which was not a problem since it was bitchy outside and I just so happened to own an abundance of Bay striped winter gear. So I decided on a uniform that made use of my white mitts that cover an entire forearm and feature the telltale coloured Bay stripes just below the elbow. Around my neck I wrapped a Hudson Bay scarf covered in the classic Voyageur print that perfectly positioned a neat row of beaver on my chest, which I decided to make the official mascot and spirit animal of my journey. Dressed in the regalia of a Canadian Voyageur diner, I made my way towards the cream coloured, Corinthian columned building that was built in 1927 and takes up an entire city block in downtown Vancouver.





Inside the first floor there were beautiful women everywhere whose only purpose, it seemed, was to make themselves and their minions even more beautiful by selling perfumery and products which they would apply to themselves and others. They couldn't stop staring as I proudly paraded through them. I was a sight to behold, a man on a mission, a culinary hero if you will. With beaver on my chest and gravy on my mind, I began an ascent towards the upper levels of the department store on a series of motorized escalators. With each tram presenting me into a different world of fantasy and luxury, I couldn't help notice that the closer I got to the Seymour Room, the women seemed to have less clothing on. By the time I arrived on the fifth floor they were down to their underwear completely. My imagination ran wild as I began to wonder what could be waiting for me on the sixth floor. As I climbed higher, my thoughts raced between various meats and cheeses, of burgers and hot dogs, endless drink refills, chicken pot pies and open faced sandwiches. The Seymour Room itself would have a panoramic view of the city at night. It would be stately and historic, filled with beautiful people giggling between bites of dessert, and possibly even feeding each other grapes. I had the appetite. I had the outfit. I had about $15.00 in my pocket and I was ready to make dining history.





The Seymour Room was big, I'll give it that, but I was mortified by the appearance of what I had found, which was basically an over sized White Spot. The entrance sheepishly advertises itself in black sans-serif font behind the electronics department and opens into a large open room that could easily accommodate any number of diners. On my visit, though, the Seymour Room was near empty. Except for a collection of senior citizens dining lonesomely under some of the most horrific lighting one would ever want to see the elderly or any kind of food under, and they were hardly feeding each other grapes. In fact, nobody was saying a word. The Seymour Room is the quietest restaurant in the known universe. The expansive view I was expecting was obscured by some kind of reflective coating on the windows, and the seats were hard and uncomfortable. To The Bay's credit, they at least had pictures displayed throughout the room giving hint to the goldmine of history and nostalgia the company possesses, and what a Hudson Bay dining room once looked like in all its splendidness. However, this only accentuated the injustice of it all and foreshadowed the end of my journey before it had begun.
Here the concept of the department store restaurant was on life support, and operating in survival mode. The salad bar was closed, the grill was closed, so was the deli area and the pre-made sushi buffet. The only thing that was open was a hot table with a sign that advertised two menu items for dinner: roast beef or fish and chips. The woman serving me looked Chinese, but sounded Russian, "Mashed potato or rice? Corn or carrots? Would you like gravy?" She took me through the various sidings after carving a serving from a massive chunk of roast with the disinterest of an executioner. My next stop was the checkout, "Would you like to put your roast beef dinner on your Bay card sir?" I then realized that this huge restaraunt was staffed by only three ladies. One to cut the meat and serve the corn, another to run the till, and lastly one to drag a decrepit, creaking bus cart throughout the room to clean the tables and make sure everyone was still alive.





Clutching my tray with hands that were by now profusely sweating inside my mitts, I must say that my mood was somewhat piqued by the sheer volume of food that I had just acquired for $9.67 as I made my way towards a table in the back of the room. A plate of my design with four big cuts of roast, paired with corn, mashed potatoes and two pieces of Yorkshire pudding – all swimming in a lake of dark gravy – had me thinking that not all was lost, and visions of pushing a fork into my face across the country returned to me. It was all too brief though, because my dinner special was not so special. The potatoes were powdery, the Yorkshire flavorless, and the meat itself overly done, too dry, and void of taste. Eating my way across the country would require better food and a clearly outlined trail of Canadiana to guide my way. Although I bashfully admit that I ate every morsel of food on my tray, I realized that my mission would need to be aborted due to low moral.





Leaving the Seymour Room for the descent back down to the Granville Street exit was certainly less inspiring than the way up. Everything took on the seedy tone of a used car lot. The clothes were five years out of style, garish sale signs hung on everything to move stock. The women in a state of undress on the fifth floor weren't even real, they were fucking mannequins in cheap lingerie. I am pretty sure I heard the staff on the first floor snicker at my attire on my way out the door. I looked like an ass, and I ate so much roast beef out of depression and longing I had to unbutton my pants on the way home.
There's the Chinook Room in Calgary, named after the winds that blow in from the west. The Paddlewheel in Winnipeg, referencing the muddy rivers that intersect at the heart of the city, and then, of course, there is the Seymour Room in Vancouver. After Manitoba the trail becomes more obscure, but there are at least two other flagship Bay stores in the east, each with their own top floor restaurant. But if the Seymour Room is any indication of the level of neglect that these once regal rooms have suffered, I don't need to see them.