Expensive Shampoo Makes Hair Nice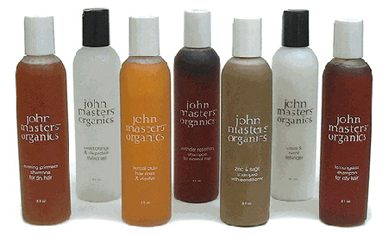 By Logan
Wednesday January 16, 2008
Does anyone even bathe anymore? Some of us took a much deserved break over the holidays, but now we've started to do it again — only because normally expensive body products have been magically made available to us for free (we've got a crew of 15-year-olds runnin' with us lately who are willing to steal anything we want if we buy them beer and pizza, so we've been taking advantage of these kids until they have their inevitable run in with the law). Sooo, we got them to go to one of those fancy supermarkets that are plentiful in this city and get us the most expensive shampoo and conditioner in the store. And they came through. It's made by John Masters Organics and, according to the bottles, this stuff is made using the "most therapeutic organic ingredients on the planet". It is also Certified QAI/CCOF organic, approved by EcoCert and contains no GMOs, parabens, DEAs, MEAs, TEAs, sodium laurel sulfate, artificial color, artificial fragrance, petro-chemicals and is not tested on animals. It's made in the US of A and is biodegradable. At $25 per 236 ml / 8 oz bottle it better be good. That's like two dollars per shower! Holy shit.
The shampoo is dark brown jelly, the "detangler" feels and looks like plain yogurt. They both smell like rosemary; the smell isn't overpowering and is quite pleasant when blasted with hot water. This is how the healthy wealthy smell in this day and age – like rosemary. If you have hair, you might as well treat it nicely, but we aren't all experts when it comes to the wide world of hair products and it can be tough to make a decision on shampoo. In order to make up my own mind on what to use, we sought out the advice of an old friend — a doctor. Just kidding, we don't know any doctors. Our friend Julia directed us to John Masters. We've been using this stuff for about a month now and are totally satisfied. We all deserve to at least be happy and de-tangled in the shower, right? We're stoked. Partially because it was on "sale", mostly because our collective wig has never felt healthier and we smell like champs. You can too! Seriously. Hair yoga. What the hell?
The Verdict: John Masters Organics. You either have to be rich or Aladdin to afford this kind of hair treatment all the time. Go bathe.