Art Fag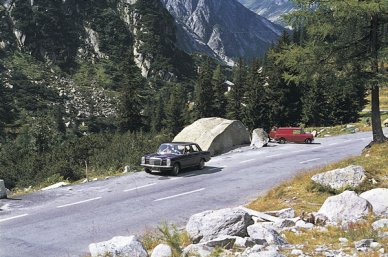 By lili
Thursday October 25, 2007
I'm not sure if this was planned to create competition, force all of us to make decisions or just to escape the Halloween chaos, but it seems that tonight is overbooked with openings and artists talks. The upside to all of this is that you can go forth into total Halloween debauchery with a clear conscience that you've done your duty as a diligent art fag.
At 7pm tonight there is an artist talk with Vancouver artist Chris Gergley at the CAG (555 Nelson st). His talk focuses on photography, the conditions of it's use and how it is overlooked in Vancouver. You can double up and check out his current exhibition called "Copy Work and Gobo" on at the CAG as well.
The Or Gallery (103.480 Smithe St.) is hosting an opening at 8pm tonight of Dutch artist Andrea Stultien's work called "Travels and Escapes". Her work is comprised of collected photographic images she uses to create narratives which focus on the construction of identity.
If video is more your cup of tea, you can check out the opening and talk of Toronto artist Luis Jacob called "A Dance for Those of Us Whose Hearts Have Turned to Ice, and Other Works". The opening is at the Belkin Gallery with the talk being held at 7pm at the BC Frederic Lasserre Building (room 104, adjacent to the Belkin Gallery). If credits are important to you, he showed this year to a positive response at Documenta.
The Western Front Gallery (303 w. 8th ave) is having a screening tonight at 8pm of Vancouver based video artists called "The Lotus Eaters: New Vancouver Video Art" curated by Allissa Firth-Eagland.
The drawing representative for tonight's plethora of artists talks is Julie Mehretu. She will be speaking tonight at 7pm at the Emily Carr Institute of Art and Design (room 301 SB) about her work which is comprised of explosive, epicly sized drawings and paintings. This talk coincides with her opening called "Reflexive Drawings" which is being held at the SFU Gallery on Saturday the 27th from 3-5pm.
The main focus for Friday is the monthly FUSE event held and the Vancouver Art Gallery. If you aren't already a member of the VAG then this can be an incentive because FUSE is free to all members. If not, you'll have to shell out $15, but it's still worth it just to people watch. The event is from 6pm to midnight with a full line up of happenings including music by Only favourite Lee Hutzulak, so I recommend checking out the website.
In my opinion the real art event this weekend will surely be the parade of slutty costumes and drunken post party make-up disasters. So go out, take notes and enjoy.