Midnight Juggernauts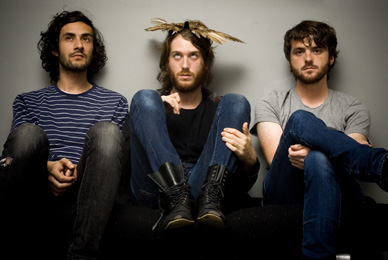 By Logan
Monday April 21, 2008
Andy from the Midnight Juggernauts took a few minutes to shoot the shit with me about some stuff while relaxing in Paris.
ONLY: So you and Daniel and Vincent are the Midnight Juggernauts. For those of us who haven't heard you, why don't you give us a little background on yourselves.
ANDY: Yeah, well we've been playing for two or three years. Vincent and I are high school friends, we've both played in bands together, just having fun playing parties and playing all types of music. Rock bands mainly, and mucking around with synthesizers. Maybe three years ago we started playing some shows with synthesizers and a drum machine and guitars, playing friends' parties. When we started to get decent, friends suggested we start to take it seriously, so we built it very slowly and put out and EP. Once the album was put together, things started to come together more for us as a band. Daniel we met who lives in Sidney (Vincent and Andy are from Melbourne) he started drumming about two years ago with us. Since he joined, it's a real band. Things are going really well.
ONLY: Your music is sort of a cross over, it seems. Lots of songs you've recorded have been remixed by friends and bands.
A: Yeah, it's good, especially with our live show it is really different to our recorded music. It's a lot rawer and it has more of a rock vibe I guess. The remixing is another sort of thing we do on the side which is really great fun. We've got some good exposure from doing that as well, it's kind of fun to toy with other songs and really turn things inside out. That's how we approach it. To see if we can create something completely different. We never stay very true to the original version. We haven't done so much remixing lately, although we get asked a lot to do remixes. It's been hard because we've been so busy playing live and recording our own stuff. We did one recently for Sebastian Tellier, and that's the last one we did.
ONLY: When you have a simple set up and it's just the three of you guys playing live all the time, do your songs just evolve naturally?
A: That's what's happened with our live show. We never really used to rehearse very much when we first started, but we're kind of forced to take it a lot more seriously now. It's paid off because we rehearse so much and I think the live show has improved a lot. We've spent so much time re-working the songs live. They (the songs) really do keep evolving. We're not always entirely happy with them so we change a lot of the middle parts and the intros and outros. We go off on proggy jams; maybe we do it too often but it's really fun.
ONLY: That's the word. Progressive.
A: Well I think that's just because of the amount of shows we've played and the amount of shows we are about to play over the next few months. We kind of have to change things up in order to keep things interesting for ourselves.
ONLY: Great, so many shows.
A: Last year was great. The second half of the year we went and did the Justice tour. Since then we've just been building, and now it's just about time for the festivals. I guess Coachella's the first one, so thats good. It's exciting to be playing so many big festivals around the world.
ONLY: I saw Cut Copy and SXSW. They're buddies of yours from Melbourne?
A: Cool. Yeah they're doing really well at the moment. They're good friends of ours and I think we'll cross paths over the next year or so at festivals. It's always fun to hang out again. I think their path is similar to ours, you know – touring a lot for their premier album. It's good to see friends doing well.
ONLY: So you guys have a record label called Siberia. Why is the mailing address for somewhere in Russia?
A: [Laughs] The website is interesting, there's an address to send demos to some Russian address, but its a joke and obviously not true. The label was set up for us in Australia to release firstly our EP and then our album. We did that because we've always been self sufficient and we like having control on all the aspects of the band. In Australia it's small enough that you can put a record out yourself. Especially with the internet, you don't really need big promotional money to make something travel. So we opted to put our own stuff out and it was really successful that way.
ONLY: That's the dream – to run everything from the ground up.
A: I think it's important. It's not necessarily that a band needs to be independent, but I think that you really have to be independent minded. I think anyone who starts and builds some momentum their self before signing really helps. We were doing a lot of touring in Australia and putting out records ourselves without any help from a label. So when you get into a position where you need some support you can make it happen. It worked for us.
ONLY: I think it also shows kind of a good role model for other bands that want to do their independent thing and tour lots.
A: We've still got so much ahead of us and things we want to achieve. I think that it just takes perseverance. For us there are a lot of extra people involved with our band now, you know? There's stuff going on all over the place. It's a lot of work. Like staying up all night after we play answering emails and stuff. It's a lot of work. Not so much in Paris right now, because we're just enjoying doing nothing.
ONLY: Yeah, Paris is good. So you guys are coming to Vancouver soon, and then off to the US and Japan?
A: Yeah I was just thinking today how soon that is. Coming to Canada and then the US… It was really exciting the last time we came with Justice. It was really one of the best experiences I've had. If it's anything similar to last time, I'll be happy.
Midnight Juggernauts play Tuesday, April 22nd at Richard's on Richards.