Cold Heat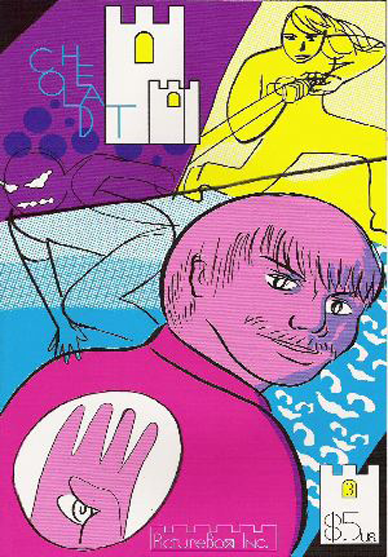 By Asher Penn
Thursday June 14, 2007
Actual Humans vs Talking Muffins
It should be easy to take stock of the state of independent comics these days: just consult the graphic novel section of Chapters to see the many magnum opuses available from various independent publishing houses. Kramer's Ergot, The Ganzfeld, Drawn & Quarterly, Fantagraphic Books and McSweeney's have all put out inch-and-a-half-thick anthologies that champion the major players of indie comics in recent years. While these books provide a unified front regarding the medium, the actual content suggest the opposite. Instead of creating a spectrum of different takes on the practice of the comic book, these collections seem to be comprised of two unspoken camps functioning in direct conflict with one another.
Because these parties are undefined, it might be easier to classify them by attributes:
One set seems interested in being weird, while the other set, truthful.
One set has nonsensical narratives, the other has linear storylines.
One set started doing comics because of Gary Panter and the other set, Robert Crumb.
One set likes collectives while the other set seems decidedly hermetic.
One set makes drawings and paintings while the other set makes illustrations.
One set has Fort Thunder, Nog A Dod and Paper Rad while the other set has Dan Clowes, Chris Ware and Chester Brown.
The first candidate to bridge this gap between the straights and the weirdos might be Cold Heat. Published by Picture Box ( Nog A Dod, BJ, and The Dogs and Brian Chippendale's Ninja Comics) Cold Heat is a collaboration between Ben Jones (Paper Rad) and Frank Santoro (author of Incanto and Chimera). The comic also cameo's Aaron Cometbus as letterer, whose long standing self-titled zine is a benchmark of American punk and DIY publishing.
While it is impossible say exactly who is drawing what, Santoro's lyrical style juxtaposed with Jones's pop-psychedelic creates something that neither artist could create individually. Jones and Santoro are confident and slick in their technique, utilising narrative techniques that they have made their signature. Santoro's painterly lines and chalk rub coloring clash wonderfully with Jones's ghoulish creatures and op art backgrounds.
In collaboration, the artists and have been able to focus more on the actual storytelling. Cold Heat is about the death and afterlife of Joel Cannon, the lead singer of famous noise act Chocolate Gun, and the world that has been left in his absence. This is paralleled by the life of twenty-something female protagonist Castle, as she is fired from her internship, has sex with a CEO, is sent to a mental institution and has a lesbian tryst.
While the plot might seem completely absurd, it's pretty accessible compared to projects that Jones and Santoro have done previously. Cold Heat gives a voice to emotions familiar to a generation that has never been interested in articulating how they actually feel, preferring to mask and abstract those emotions in other ways: noise music, weird drawings, knitting, etc.
The presence of a recognizable human form strengthens this sentiment and allows the reader to empathize with the characters. Unlike an abstracted cartoon character, which creates layers of separation, people physically recognize themselves in the comic. Simultaneously, the concepts and politics come from artists whose work has typically been decidedly alienating. Reading Cold Heat is like discovering that the people who have been making these weird comics are actually people too, not just talking muffins that can draw.
Cold Heat has been canceled at Issue #4 due to poor sales. The final issues have been slated for release as one big comic book in Spring 2008.