SXSW: Jody's Friday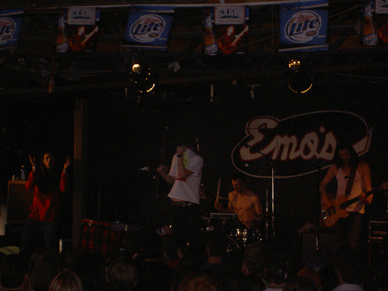 By JodyG
Monday March 17, 2008
Today starts off with more Cadence Weapon. The guy is dope. I meet up with the Tripod at Emo's for Yeasayer. Wow, yet another band I've been meaning to check out for awhile. Such a great mix of primal, earthy beats and electronic noise. It finally hits me how amazing music is. One of the guys in the band tells the crowd that he was referred to as a red head. He said he didn't know how to feel about that. I was standing at the back of the club, perched on the top of a bench, sorta surveying the whole place. I found myself yelling across Emo's 'I Love Gingers!', a true statement, which projected way more than I expected. Beer and a platform are never a good idea.
Our 3 o'clock craving for margaritas kicks in, so we wander 6th Ave in search. Cisco Adler is doing some interview thing for Blender, looking for the hottest girl in Texas. He takes our temperature, and as he's doing so I try to drop the phrase 'Tripod' as many times as I can into the camera. I hope I never have to watch that.
We catch wind that there's some mansion party sponsored by CBC. They have a full on picnic spread set out in the dining room and Moosehead. Fuckin' Moosehead! Someone must have brought that down with them. Toothbrush, check. Extra strings, check. Fourteen flats of canadian beer, check. I feel like the thirteen-year-old sister crashing a high school party. I see more familiar faces: Dan Mangan, Matt from The City Streets and my most favourite, Rebecca Higgs. She is from Halifax and we've tried to organize shows together in the past. She has knitted these little heart pins, I noticed some of the boys in Shout OUt OUt OUt OUt wearing them the other night, so I ask if she has one for me. She laughs and says only if she's allowed to put it on me, so yes, I have been pinned by Rebecca Higgs. I also run into to Keiko, who plays with The Acorn. I know her from her other band, People For Audio, of which I've had the pleasure of sharing a bill back in September for DeckFest in Vancouver. We chat for a bit and I try to mentally note that she told me The Acorn plays The Mohawk tomorrow at 2PM.
It's about 8 at night and the party starts to filter out. I figure it's because there is no more Moosehead left in any of the coolers. As we are waiting for a cab, an RV pulls up and out stumble a slew of people. It's The Stills, and Dave recognizes Coral from putting together some shows. We all roll down to Stubbs, and take over a huge table in the restaurant. MGMT is playing again tonight, followed by The Cribs, Sia and N.E.R.D. The line outside for the venue part of Stubbs is already down the block, but there's a plan. We have dinner, with the band's manager picking up the bill, and then by that point we find ourselves being shuffled to a deck patio above the stage. I am stoked. Between all the bands playing, there are about 18 different synthesizers on stage. I'm standing about ten feet directly above the key player for MGMT and can't take my eyes off of his hands during their set. I decide I need a Yamaha DX-7 and a Minimoog immediately.
Back down to just the three of us, we try to hit up another party at the same place where the Nylon party was the other day. No dice. We catch the tail end of the Mint Records showcase at Club 115 and then by this point it's about one A.M. and the after-party texts start. We end up at a party out east where the Smalltown DJs from Calgary are spinning. Nothing like getting your groove on to Chromeo under a clear half-mooned Texan sky. From there we head to some Blender party also in the middle of nowhere. Once more, Diplo is playing records along side A-Trak, they start some spin wars, going back and forth between the two. I finally realize that I reffered to him as Diplomat the other day. God, there is so much going on down here, I can't keep it all straight. My apologies. I run into a friend in town from New York. Apparently the other guy staying in his room has already left town and he's got an extra bed. The party wraps up and the night is called.
Scene.