Beat Kids: To the Left To the Left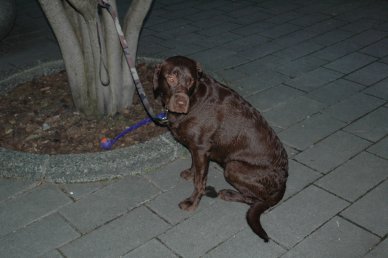 By chloe
Tuesday April 8, 2008
So apparently there was an injury at the Sweatshop's Bison show I talked about last week. I think there was some brain damage and a neck-brace involved.
There was quite the shit-show of events happening this past weekend, and pulling myself out of a bed-of-germs (I get sick a lot) for more than one night wasn't really an option. So Friday night I headed down to that show-with-awesome-bands at the Unicorn, but not before hitting Cafe Crepe up for the usual (gin martini), then heading to a beach-side penthouse for more. Before long, my friends and I had arrived at what was supposed to be the show of the night, but we could have been wrong? City of Glass were opening the one time I'm early enough to see the openers, so OF COURSE they have to be absolute shit. I have no clue how this band got on this bill, but I was out the door half way through their first song to get some drinks at Hoko's . There was some sort of jazz act playing there that was alright to listen to from those private booths, but not alright enough, so we headed back to the Unicorn just in time for Ice Cream's set (after sending a dear buddy back home in a cab). I hadn't been able to make it to one of their shows yet, so I was really excited. Unfortunately the 'Royal' Unicorn is quite the lackluster venue for live acts (mostly in the ways of a sound guy), and it was pretty obvious on the lovely faces of that 'talented' band. I have to give their now-wave/surf-punk a big thumbs up, but whoever was doing the PA should get fired.
Sunday I crawled out of my tomb with the help of some Red Bull and headed down to Pub 340 to party it up before a 'cleanse' that is to be happening 'til some point before my birthday (I wonder if Qualudes count). This would be the evening when I would fully realize the effects of Bylaw 41 (is that the right number?). With no smoking room to hang out in and actually hear what people were saying, I have to admit, I felt like the night was a bit of a lost cause. Fortunately I ended up running through the rain a bunch with a stolen mug (sorry guys!). Bring back smoking in Bancouver!
Tomorrow evening that soul night at the Astoria is still on. Thursday Sex Attack will be bringing Tittsworth back, White Owl and The Sorcerers will be at Pub 340, and Cat Power will be at the Vogue. Friday there will be another one of those Sweatshop parties with Little Sister and the Time Machine playing. The same night is the last Mutators show 'til August/the second to last ER show 'til that date as well. You could probably do both if you want… Oh yeah, almost forgot about the Clips and Woodhands at the Astoria too. On Saturday, Sissy Spacek, Yellow Swans, Sex Negative and Shearing Pinx record release at the Emergency Room. Not one to be missed.