Fake Jazz Wednesdays Turns One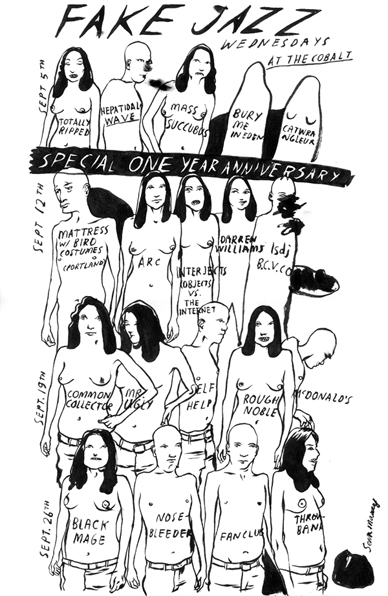 By Cameron Reed
Wednesday September 5, 2007
Last summer in Vancouver things started to get a little weird. Dozens of kids were gathering every couple weeks in an underground parking lot on Granville Island to get their eardrums ripped to shit by local and touring noise artists. You would have almost thought that people actually liked the "music". It was clear however that this music of free expression was gaining the attention of a new crowd.
Enter Fake Jazz Wednesdays. In their own words: "THIS IS A PLACE TO EXPLORE YR FREAKY IDEAS THIS IS A PLACE TO EXPLORE SOUND". This night brought together the spill over from the old Sugar Refinery crowd, punks, gear nerds, artists, and every weirdo from every corner of the city intent on pushing the boundaries and concepts of improv.
Tonight Fake Jazz kicks off the celebration of their one year anniversary. Congrats Jeremy, Bil, Arlie and everyone else that work the grind to keep the Cobalt full every hump day.
[UPDATE: The official one year anniversary show is September 12th]