Insite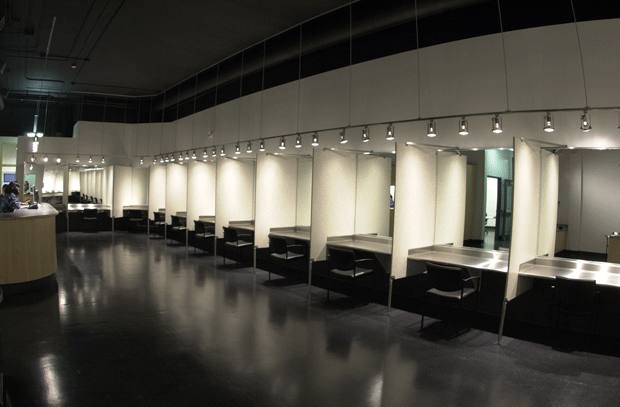 By Sean Condon
Friday September 15, 2006
A political needle in the dick
Vancouver's safe injection site was saved by the skin of its balls two weeks ago when Stephen Harper finally realized he would get a syringe shoved up his pee hole if he tried to shut it down.
But while the federal government's delay in announcing an extension for Insite on East Hastings is a mindfuck for anyone who has ever set foot in the Downtown Eastside, the real blame actually lies with the provincial government, which built and funds Insite.
Harper's ignorance was predictable, but Gordon Campbell's refusal to bitchslap him or put any real resources into helping addicts get off drugs over the past three years has been a criminal waste of time.
First off, Vancouver doesn't actually need the federal government's permission to run a safe-injection site. The West End's Dr. Peter Centre has operated a small safe-injection site for its HIV/AIDS clients since February 2002 without a legal exemption from the federal government and the cops haven't shut it down.
The Centre is confident that if the issue ever went to court, it would win. Campbell could have told Harper to fuck himself.
Secondly, while harm reduction is an extremely important part of the city's four-pillar drug strategy (you can't help addicts if they're dead), it's the easiest and cheapest pillar. The harder and more difficult part is setting up long-term treatment programs.
"The treatment pillar is the more important [pillar] and the more complicated one," says Mark Townsend, coordinator of the PHS Community Services Society, which helps operate Insite in partnership with the province. "That whole pillar needs to be revamped and looked at in a much more complicated way… Clearly there needs to be more treatment beds."
For god-knows-what reason, it took the PHS eight years to get approval to set up 30 temporary detox beds above Insite, even though there is a desperate need for more beds in the city. There are roughly 8,000 injection users in Vancouver, but the province only funds about 50 detox beds and 100 treatment beds in the entire city. Successful treatment can take years. It requires strong medical and community support, stable housing employment and income assistance — all of which are in dangerous scarcity for poor folks in Vancouver.
While the creation of Insite is a major accomplishment, the provincial government is still way behind trying to cope with the growing (and much more debilitating) problem of crack and crystal meth addiction. Even though a special inhalation room was built in Insite for crack users, they have refused to open it to them — it's being used as a storage space.
Aside from being unable to deal with the overwhelming problem of regular addiction, the province has barely begun to address the terrible phenomenon of mentally ill addicts. The Campbell government continued to make major cuts to mental health care when it came into power even though the continued closing down of Riverview Hospital since the 1960s (which resulted in an exodus of mentally ill patients onto the streets of the Downtown Eastside) showed the desperate need for more provincial help.
"This government has brought addiction and mental health into the same ministry, which is a positive thing," says Marina Morrow, an assistant professor of Health Sciences at SFU. "But I think we're still going through a lot of growing pains with how to ensure a good integrated system on the ground… and it's causing an overload of the services."
Addiction is a devastating and terrible disease that can destroy a person's physical and the psychological state of being. It's time for the provincial government to ignore its federal counterpart and start building more injection sites, treatment beds and housing, because the only problem right now appears to be that Campbell is still addicted to anally raping drug addicts. Maybe a needle up his cock will help change his mind.