Raised By Wolves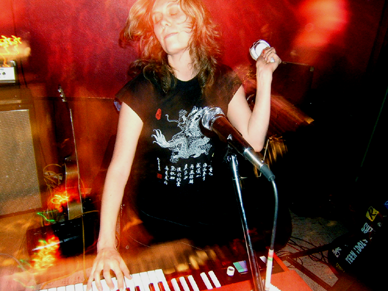 By Sarah Cordingley
Wednesday March 16, 2005
PREGNANT
AND
PUNK
ROCK
I don't think I've ever known a band that took a baby on tour. Billy and Krista Bones (guitarist/singer and keyboardist respectively) of Raised By Wolves did that with another one on the way. Next tour I heard they're bringing their dogs and having a Tommy, The Pinball Wizard pinball machine installed in the back of the van.
ONLY: How was your tour?
Billy Bones: It was alright. We went to Bellingham and Portland and then we went to Seattle. Nobody really came out to the shows. All the promoters were like "Man, we really liked your band. Next time you come we'll have tons of people out." And it just made me think "Why didn't you have tons of people out this time?" But I guess there's nothing they can really do for an unknown band.
ONLY: I heard your baby, JJ, went on tour with you?
B: Yeah, we brought a tour nanny. He only came to the one all-ages show. He's got ear protection. Mostly the nanny just hung out with him wherever we were staying. He toured pretty well. We brought a little DVD player for him. So when he got mad he watched Franklin and everything was cool.
ONLY: What are you guys doing now?
B: This record label called KenRock in Sweden is putting out a 7" for us.
ONLY: KenRock?
B: Yeah. Ken like Ken and Barbie. Although they're not together anymore.
ONLY: What?
B: It's true.
ONLY: I think you're thinking of Brad and Jennifer.
B: No. I don't care about them. I heard it on the news or something. Or maybe I'm making this up. But I'm pretty sure I heard that Barbie needed some options.
ONLY: If you have a baby girl will she be allowed to play with
Barbies?
B: Maybe. I don't know.
ONLY: Is JJ allowed to play with Barbies?
B: I don't know. I want him to be able to do whatever he wants. "Oh, you want to go be a ballerina guy? Sure, go ahead, just know you're breaking my heart." (Laughs) But I do want him to do whatever makes him happy.
ONLY: Tell me about the people in your band
B: Well, Marty's going to Germany. Marty's Rock 'n Roll all over. But he doesn't seem to know it or something. He keeps telling us we need to replace him. The rest of us want to tour and just go hard, but he wouldn't be down. Steve is a rocker. His drums are always everywhere except where they're supposed to be. He has a chiuahua named Cash. Monkey lives in Bellingham and he's all Rock and Roll. I never know how to talk about people because they're going to read this… So Marty and Steve and Monkey are all the best looking dudes ever and they're great at pinball. And Krista is my girl and she plays keyboards. She's Rock 'n Roll in a way that you don't expect. When I listened to strictly Bob Dylan and Donovan, Krista was listening to Dead Milkmen, Circle Jerks and Black Flag…punk rock.
ONLY: Is she getting really fat?
B: Yeah, she's a monster. It's pretty fun.
ONLY: How pregnant is she?
B: A hundred per cent.
ONLY: I mean, when is she due?
B: In the middle of April. When she was pregnant with JJ she played a show at Ms. T's when she was nine months.
ONLY: I hear that the morning sickness is pretty rough.
B: Yeah, at the Astoria after a song she came over to me and said "You guys keep playing, I'll be back in a while." I just thought "Oh, she's pregnant, she has to tinkle." A while later she came back and after a couple of songs she came over to me and said "I just went and puked." She came right back and went Rock 'n Roll.