The Intelligence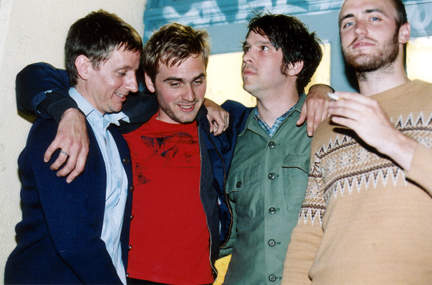 By Cameron Reed
Thursday February 1, 2007
When Are We Going To The Moon?
ONLY: How many bands are you playing in right now (Lars played in A Frames, The Intelligence, and The Dipers)
Lars: I'm only working on The Intelligence now.
ONLY: Did all the other projects become too much? I heard somewhere that if you work really hard for 10 years on one thing you should be a millionaire by the end. Is that the plan?
L: No, the creativity and enthusiasm had waned a bit in one band after 7 years and the other was never a real band. The Intelligence has 3 more years to become successful otherwise we have to start the frozen yogurt stand fallback plan.
ONLY: Only Magazine has such a hard on for DJ Rick, Art for Spastics and KDVS. How much do you love them?
L: DJ Rick is the best, he liked this band Pink Reason so much he took them on tour and we saw him in Seattle and had a great time discussing his favorite 'pump up jams' and him calling in a local sports radio station to declare the Hospitals 'Rich People' one of the best pump up jams ever and it playing it over the phone to a bunch of irate sports fans calling in to yell that it was garbage and 'everybody dance now' is a proper P.U.J. He's set up some great shows for us in Davis/Sac'to and KDVS I can't be thankful to enough for always playing our stuff and being such a great progressive station. Without them we would have never met Scott Soriano (S-S Records) as well who put out some of our music and turned us on to Karate Party and has one of the most consistently interesting labels around.
ONLY: What should people expect from your show?
L:Us playing on borrowed stuff because we're scared to bring our own equipment! You guys'll break a window to steal the cigarette lighter! There are some really great new people in the band from the last time we played there, Dave and Shannon who were in the Pulses and Shannon played bass in the Fall-outs and sings like a bird, and T.V. Cohran played guitar in the Popular Shapes and does solo stuff that is amazing. The band sounds a lot different. There are a lot more keyboards now and we sound more like the records than the last version of the band did. It's friendlier sounding. We have a new record coming out in the spring and we'll be playing a lot of new songs from that.
ONLY: Did you hear about the U.S. Government outsourcing its intelligence gathering to private firms? Your thoughts?
L: I've heard about that, I don't consider peekin' in somebody's underwear drawer 'intelligence'. I guess you just have to put your hand over your heart and try to be proud that the government is trying it's best. Anyway, I think the real question on everyone's mind is when are we going to the moon?
ONLY: Do you see yourself more like a Rock n' Roll Jesus or a Rock n' Roll Mohammad?
L: Mostly like a Rock and Roll Noah, as the heavens told me to make these beautiful love songs of understanding and togetherness hidden in a disguise of poor recordings and atonal noise and each new record bring groups of two together to make a new race that only listens to French 'glue wave' 7 inches and only eats sushi and pays it's cable bills on time and rebuilds New Orleans.
The Intelligence play with No Feeling and Defektors at Pub340 on Feb. 3rd.