Grizzly Bear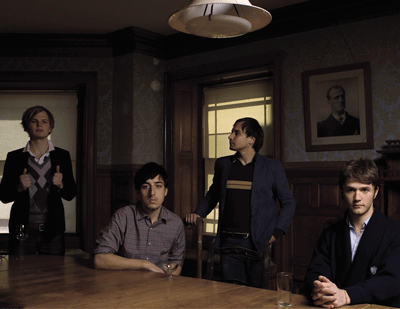 By Cameron Reed
Sunday October 1, 2006
They recorded their new album in a house.
Grizzly Bear are about to embark on a North American tour with TV on the Radio. Though it may at first seem like a strange coupling, these bands match up perfectly because of their respective indefinability. I spoke with Ed Droste, Grizzly Bear's founding member, shortly after he interviewed a guy with an album called He Poos Clouds for the fantastic homosexual quarterly, Butt Magazine.
Only: Your new album, Yellow House, is the perfect music for…
Ed Droste: A dinner party. [Laughs]
Only: Yeah! Or for really engaging yourself and becoming absorbed in the album's texture. The whole album has a really calming tone and feeling.
E: What's interesting is that it all came from different places. A lot of the songs were written by Dan [Rossen], some were written by me, and some by Chris [Bear] and Chris [Taylor]. And they came from different periods in each of our lives. Some were a year or two old and some were really new. But we have similar sensibility and aesthetics, and that ended up making it really cohesive. And recording it in that house [Ed's childhood home in Cape Cod] gave it a cinematic, nostalgic feeling.
Only: It's incredible how cohesive the album is considering how disjointed the initial writing process was…
E: We were all really nervous about it so I'm pretty relieved. The initial forms of the songs were all kind of disparate and varying so we were really questioning how the songs were going to work together. But it was in the recording process, all the layering, and being in the house with everyone adding ideas that the sound or feeling came together… thank God.
Only: So you feel that recording in the house really influenced how the album turned out?
E: I don't think we realised it at the time, but having the whole house to ourselves and living there was sort of the first time the four of us had to do something other than tour together. So we were learning how to work together, learning how to write and be creative together. It was nice seeing everyone together in the house I grew up in. There was an old piano there that we used on the recording so the house sort of seeped its way onto the album without us realising it until we looked back.
Only: What's all of your musical training?
E: Mine is nothing, actually. I have a lot of musicians in my family but aside from some guitar lessons in high school, I really have nothing and I'm kind of ignorant when it comes to composing or reading sheet music. Whereas Dan is incredibly gifted and has studied music, Chris as well. It's funny, we all bring different things to the songwriting. I'm a little more naive. My approach is more, "that sounds good" and I don't really know what notes they are. But then they will say, "well, that note is a little strange with that scale so maybe we should try this." It's very much technical meets non-technical. We find a happy medium between my sort of repetitive pop sensibility and Dan's more orchestral and complex sensibility.
Grizzly Bear play with TV on the Radio at the Commodore on Oct 3, 2006