Sex Negatives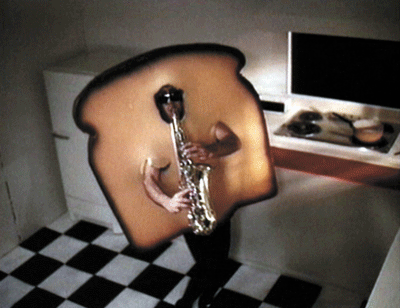 By Cameron Reed
Friday September 1, 2006
Can't fuck
Once a month since the tail end of spring a bunch of punks have been gathering in the lowest level of an underground parking lot to have their ears pounded. The 25-50 person happenings have become the secret parties of the summer. With Dave the Dentist spinning on turntables out of the back of his Volvo and Keith Negative's van acting as the supplementary bar, The Emergency Room has become the best new venue in the city. The innovators of this DIY non-venue are Keith, Brody, Justin, and the elusive Ratboy.
ONLY: What is Sex Negatives? How did The Emergency Room start?
Keith: I wanted to play there for a while ever since I'd found [power] outlets there. The whole project started off with Ratboy, our friend from Kansas who was leaving in two weeks and was like, "I have to play a show." So I was like, "Well, let's play in the parking garage. I've wanted to do this for a while and you're dumb enough to do it too." We started out thinking how long could this last. How long can we play blistering noise until we get in trouble? The reception was good, a fair amount of people showed up and it kind of took on a life of its own. We realized it wasn't just a one off for Ratboy.
ONLY: You seem to have a different set up each time, the choice of instrumentation and a temporary "Ratboy."
Justin: We just try to make it different every time. We decide about an hour before we go.
K: If that! It's like "OK, what do you want to play today?"
ONLY: Is "noise" cool now?
J: Some people say that noise is pretentious. But it's like each kind of music has its place somewhere. We wanted to have a venue that was completely free, you know, where people can watch noise or whatever but are subjecting themselves to it.
Brody: And a lot of our friends' shows were getting shut down in bars.
J: If noise is cool, then it's not cool in Vancouver yet.
ONLY: Well, with the success of The Emergency Room and the beginning of Fake Jazz Wednesdays at the Cobalt, it looks like there might be an emerging new scene. Do you guys plan on using the whole parkade?
J: We want to do a multi-level show there with a different noise thing on each level, all at the same time.
B: We've had power issues before.
J: They actually have to re-shoot a Jessica Alba movie because we stole all their power. We drained all of it.
ONLY: How did you find that out?
K: The Backstage Lounge [where Keith works] is being shut down again to re-shoot some scene. This guy who is in charge of making sure everything is in focus thought everything was fine but because the power was drained the equipment wasn't working properly. So it turned out that the night we had a show we had stolen all of their power.
B: I finally got her back for stealing my pen.
ONLY: What?
B: She stole my pen when I was working at Virgin Megastore.
J: And he's waited all this time to slowly, inadvertently get back at her.
B: I knew my day would come.
Sex Negatives play at the E.R. Sept 25, 2006 (The Return of Ratboy!)