Blood on the wall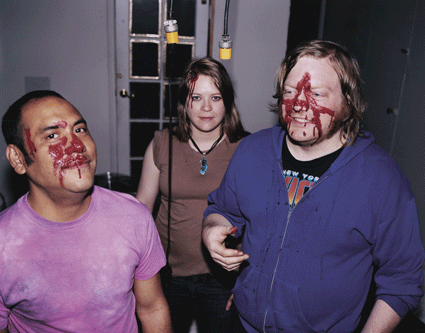 By Cameron Reed
Monday May 1, 2006
The Miggy Littleton Show
Blood on the Wall have been given the highest reviews in Pitchfork, Vice, Spin, and Rolling Stone but have escaped the usual gross hype that follows. They've toured with Black Dice and are currently touring with The Yeah Yeah Yeahs and yet haven't been asked to play a single festival. After I spoke with singer/guitarist Brad Shanks I just figure it's because they're straight up dudes that don't care about that sort of shit.
ONLY: You guys played the Orpheum, which is huge. Was it strange on that stage because I'm sure you guys are dealing with that a lot on your current tour?
Brad Shanks: It was beautiful, just gigantic. It was a little strange. In the beginning we were pretty nervous and freaked out because there were so many people who had never heard of us. We were like, "What the fuck are we doing?" Now I'm just trying to have as good of a time as possible on a big stage. I like playing on the floor a lot better.
ONLY: Understandably. Have you guys done the whole festival circuit yet, playing in front of, like, 10,000 people?
Brad: We haven't played a single festival. We have no festivals planned at all. We haven't been asked or anything.
ONLY: That's weird, because you guys have been praised by everything that usually creates hype but have escaped it. Why do you think that is?
Brad: That's a really hard question to answer. It's like, it's cool to have a good review of what you made in a big magazine and everything. It's a cool feeling. But you know the good comes with the bad. So the next time around that same person may say they hate you. So that thing you love so much becomes a thing that lost a little. But I try not to think about it too much, or pay much attention, really. Pitchfork was really random. We just got our record and the next thing we knew they gave us a good score then asked us to play the New Years party. It was just incredible. That was the most random, but Vice Magazine, I know all those dudes and I think someone on the inside did something. They wouldn't say anything or admit to it, but we do have friends that work there. They said they didn't but I don't believe them exactly.
ONLY: Well, it's awesome regardless. You guys have a minimal setup but have such a heavy sound.
Brad: Miggy fills in the space really well. I think Miggy is a crazy drummer. I mean, I always joke like he's the front man. It's like it's the Miggy Littleton show sometimes. "Miggy Littleton…take it away." We like the minimal thing. We thought about getting another guitar player or keyboard player, but when we really thought about it, what kind of always makes the songs good is trying to take a small arrangement and making it as big as possible. It's kind of nice to be limited by it. But I'm going to make up for it by getting a big fucking amp. People are going to be bummed out because I love treble so much and a trebly stack is going to pierce people's ears.
Blood on the Wall play Friday, May 5 with the Psychic Ills.