Brian Jonestown Massacre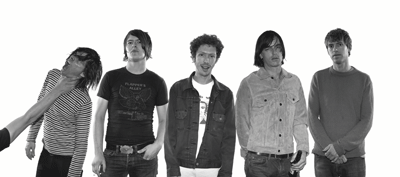 By only
Thursday September 1, 2005
Anton Newcombe doesn't do interviews anymore. He only does e-mail "interviews". If you've ever read any of his previous interviews, or seen the movie Dig, you probably understand. He can get pretty worked up.
Only: Why do you only do e-mail interviews?
Anton: Because I value my time and know that rock journalism is dead. I know that most people have zero interest in doing any research, that they have no knowledge of our work and our history. Because it is a waste of my time to speak to fucking morons. Because I would be on the phone 24 hours a day if I let people know my number. Because it would make me want to kill people. Because I have a record of what I say, what you say, and of the end result.
Only: Do you believe in evolution or revolution?
Anton: I believe there are criminals running my country, and I believe in justice. I believe we shall overcome or die together.
Only: What is the most unbelievable international encounter you've ever had?
Anton: I'll skip this question and pretend you asked me if I thought the war in Iraq and Afghanistan were in fact about oil and not really about terrorism. Yes they are. Oil is now $70 a barrel. Think about it, the President and vice president are in the oil business.
Only: A friend told me you did the Rolling Stones better than the Rolling Stones, what do you make of that?
Anton: I'll take it as a misguided compliment. But listen, I've never written anything half as great as Ruby Tuesday or Satisfaction.
Only: If you were to make an epic concept album, what would the theme be?
Anton: Really hot girls having the best time of their life and being very pleased.
Only: Do you feel there is anything experimental about your music?
Anton: You know the answer to this question.
Only: Is there anyone (living or dead) you would like to collaborate with?
Anton: Bob Dylan. Dimmer. Lot's of people. I understand that Courtney Taylor, myself, and Mick Jones from The Clash might record an album together. I'm excited.
Only: You have had your flamboyant moments. But who's a better dresser, you or David Lee Roth?
Anton: I am, and I have all of my hair. I am real, he is a real asshole.
Only: Do you think the BMJ would be more successful if you were just slightly more handsome?
Anton: Successful at making children maybe.
Only: How are you keeping music evil?
Anton: By not being a stupid fucking cunt.
Only: Thanks brother, can't wait to see your show in Vancouver.
Anton: My pleasure Sarah. You owe me a drink brat.
Brian Jonestown Massacre play Saturday, Sept. 10, 2005 at Richards on Richards. It's a 7pm show cause there's a club night afterwards. Lame.