This Film Is Not Yet Rated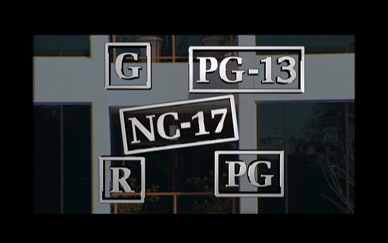 By Adam Thomas
Thursday February 15, 2007
I'll show you inappropriate
It's more than a little unnerving to think that there is some over-lording entity that looks down and judges what you create, and has the power to prevent people from seeing your work. The issue of censorship inevitably brings about the anxieties and fears of puritanical homogenisation, and if you are an artist of any kind it can be both frightening and totally demoralising to have some abstract group deem your work immoral and unfit for public consumption.
This is the starting point for director Kirby Dick's documentary This Film Is Not Yet Rated, a brave and daring film that explores and eventually exposes the ideologically driven and frustrating pathology behind the US ratings system as regulated by the MPAA (Motion Picture Association of America). It's brave because it offers candid interviews with numerous filmmakers who have suffered the judgment of the MPAA and have had their films rated NC-17, a rating that basically means, "yer fucked" in terms of mainstream marketability. And it's daring because it makes the names of those sitting on the board now public. That's a dramatic twist considering that since it's modern inception in 1945, the names of the adjudicators who sit on the board of the MPAA has been kept secret from the public. As pointed out in the film the only other office with a mandate to safeguard the arena of public decency that operates with that lack of transparency is the CIA.
The film opens by listing the names of famous filmmakers who have had their films rated NC-17 and the list contains more people than you might expect. From Pedro Almodovar, Sam Pekinpah, Stanley Kubrick and Mary Harron, to Atom Egoyan, Kevin Smith and Quentin Tarantino, tons of directors have either suffered the marketing curse of the imposed rating or been forced to re-edit their film in order to meet MPAA's standards of decency. No one is arguing that ratings aren't useful in helping guide parents as to what may be appropriate, especially for young viewers. But the insidious effect ratings boards can have on the face of culture is frightening. Especially when there is no accountability and the moral nature of a ratings jury seems to be based on individual jury members' personal reaction to the material. So Kirby hires two lesbian detectives to find out the identities of the board members, while at the same time exposing the ideological biases of the ratings board itself. As individual filmmakers tell their stories, it becomes apparent that there is a moralistic aspect in the rating of particular films and the MPAA is under no obligation to offer reasons for its judgment. Any content deemed "deviant"– which tends to include gay or lesbian sexuality, any sex other than missionary, overt female satisfaction and the numbers and context of swear words–can bring the dreaded rating of NC-17. This in turn affects the distribution of the film, and can easily make or break its chances of finding an audience.
But there is something exciting happening in the film. It is a breathing work that is a little dangerous as Kirby puts his own creativity on the line. The film, while being about censorship, essentially ends up inviting itself to be censored. In making its case it is filled with uncut examples of "controversial" material and in the end the film ends up receiving its own NC-17 rating. But for Kirby that's just fine because "This Film is Not Yet Rated is prepared to challenge those who would judge it, and Kirby, appropriately, takes pride in having his own film labeled inappropriate.