Air Guitar Nation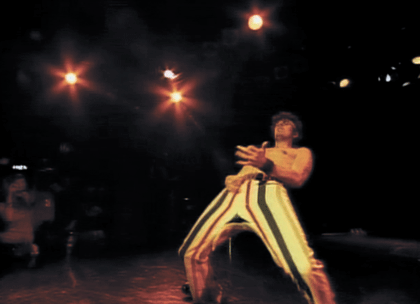 By Adam Thomas
Friday December 1, 2006
Invisible Axes, Real Chops
Sometimes things in the universe just align themselves. Serendipity or what have you just jumps out, downs a shot of tequila and screams, "Kick out the jams, motherfucker!" So it was with the movie Air Guitar Nation. First Guitar Hero II came out on PS2 and I got to shred to a whole new bunch of reasonable covers of classic rock tracks. Then Dr. Richard Helmer invents the Air Guitar Shirt using textile-based sensors to interpret movement and translate it into guitar riffs on a computer. Pretty cool. But then the real deal lands on my desk: Air Guitar Nation.
At first it's hard to believe that it's real but I assure you it is. And before you laugh it off as just another passing fancy in the weird world of western subculture, it's important to note that the whole concept of an International Air Guitar Competition started in 1996 in Finland, where people take their metal seriously, sort of. While director Alexandra Lipsitz's film chronicles the first ever American Air Guitar Championship in 2003, what Lipsitz captures is more than just another low-rent talent contest. It's a truly rare moment of international excitement, and a journey of personal ambition filled with competition, heartbreak, and God-honest rock. While some will pass it off simply another ridiculous type of karaoke, there are enough licks, kicks, and tight long strums here to put members of Supernova to shame.
The movie moves quickly explaining the whole concept with interviews from the original founders–it began as a bit of a joke, but is now much less so–to interviews with the American coordinators who heard about the phenomenon and went to Finland to check it out. From there they organised a sold-out East Coast regional championship in New York, with that winner battling the winner of the West Coast regionals, held at the famous Roxy in LA, for the American National crown.
Because this was the first competition ever in the US, no one knew who or what to expect. People came out of the woodwork and line-ups stretched around the block. After the dust and sweat settled, there emerged three front-running competitors: the lightning fast C-Diddy, the New York rock-and-roller Bjorn Toroque, and the torn-spandex-wearing glam lover Krye Tuff. Next, the American Air Guitar Champion heads to Oulu, Finland, to play in front of more than 5000 fans, and soon discovers there exists a whole philosophy behind the creation of the International Air Guitar Championship. With a direct connection to the concept of world peace, the founders believe that if everyone played air guitar they wouldn't be able to carry guns or rifles. Too true, I say.
So what does it take to become an Air Guitar Champion? Beyond the riffs, the outfits and the technical skill, it's all about "airness"­–the intangible force that drives intent and performance, a transcendent state that takes simple air guitar and makes it something new. Air Guitar Nation captures all the humour, excitement, and rivalries, and reveals that behind all the posing and ego, these are real people who just love to rock. They know it's a bit goofy, but they work really hard at it and they all want to win. Because at the end of the day they'd know they were the best in the world at something.
Plays Dec 2,2006 @ the Whistler Film Festival