British Invasion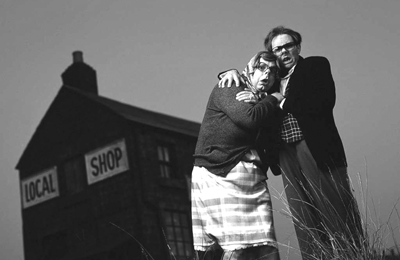 By Adam Thomas
Friday November 19, 2004
he. Small screen domination
THE British are funny. They do drag really well, overbites–no problem, funny accents–naturally, but there is also a subtlety and social perspective to their comedy. Recently, the BBC has been responsible for some of the funniest and most original comedy programming in the world. Over the past five years this four-channel universe has been ripping standard comedy to pieces to produce some truly inspired and important shows, finally making their way across the Atlantic. Shows like Da Ali G Show ('00) and The Office ('01-'03) are inspired examinations of our capacity for discomfort humour. The discomfort is both invasive and inclusive, drawing the viewer in to the realm of the participant's or character's discomfort so that we experience it with them, almost as they do. We either cringe because we know it's real or we cringe because it may not be real but it's true.
This style of comedy succeeds by using reality, or the semblance of it, to expose the ridiculous nature of our selves, of our expectations and of our environments.
Ali G, as played by Sacha Baron Cohen is a British gangsta rapper, who, dressed in flashy tracksuits with plenty of bling and a strange grasp of Ebonics, hosts a type of talk show where he interviews guests. Only his subjects don't know that Ali G is a character. Cohen constantly undermines his subjects' expectations by playing dumb and we get to see how his guests behave when dealing with someone they think they are superior to. Watching Ali G is like the best prank phone call ever, where you know it's a joke, but the people on the other end try to take you seriously. You try to keep a straight face and revel in all the awkwardness you can muster.
The Office, already old news in Britain, has changed the possibilities of comedy and features one of the most original and painful to watch characters ever. Directed by Stephen Merchant, written by and starring Ricky Gervais as David Brent, The Office is a rare thing. Shot as a mockumentary, the show follows the lives of the staff at Wernham Hogg, a paper company. This is, as it turns out, better than anything reality T.V. could ever offer, for while being a comedy it is also an amazing satire about the working environment of the office space. The entire cast delivers wonderfully subtle and utterly convincing performances, which is one of the show's greatest assets. However it is the character of David Brent, the office leader, who thinks he's witty and cool, but is constantly proving himself to be ignorant, insensitive, shallow, and inept, which is the best part of the discomfort. The genius of Gervais' portrayal is that it goes beyond simple parody, giving us a uniquely sympathetic character that evokes both disgust and pity. As a result of the documentary format, we capture characters' "natural" behaviour–before and after they've said things – moments of eternal awkwardness included. We are witness to, and experience David Brent's antics, his failed jokes and bad timing, often in the same way his employees do, but ultimately and more tragically in the same way he does.
The League of Gentlemen is a savage and bizarre show about the people in an English town called Royston Vasey. Written by the four-man comedy team known as The League of Gentlemen, this show boasts a cast of three playing over 60 roles collectively. But that isn't even close to how insane this show is.
This is truly dark comedy about truly strange characters. However, whether it is reclusive inbred cannibals who run a local store, or a pre-op transsexual taxicab driver, the subtext and writing are amazing. As we get to know the characters, who face the impending paving of a new highway through their little town, we are exposed to some disturbing assumptions about human nature and the dark places just around the corner where it really does matter if you're a local.