VIFF 2005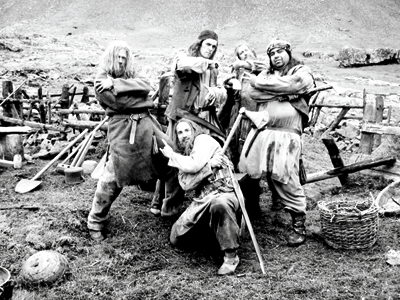 By Adam Thomas
Saturday October 15, 2005
The Good, The Passable, And The Unwatchable
Beowulf & Grendel (2005, Canada, UK, Iceland)
This retelling of the 5th Century Anglo-Saxon myth about a village terrorized by a monster and the man sent to kill it, is a bit of a mess. Rumored as being a difficult shoot in Iceland, the film suffers from scripting problems, casting problems and character investment problems. It could have been funny if the cast wasn't taking it so seriously. The monster (Grendel) is more like a nimble Neanderthal than a troll, and while supposedly set in a small village in Greenland, everyone has got different European accents except Sarah Polley (as the towns witch) who brings with her a lovely, though out of place, Ontario cadence.
9 Months and 6 Blocks (2005, Canada)
This short film does exactly what a 28 minute film should do. Leaves you wanting more. Romeike creates a fascinating world out of the lives of three different Torontonian. All living in the district of South Parkdale, we meet Peter, an eloquent, if not eccentric, elderly chap whose awkward ways are totally endearing. Jade a youth struggling to make her way out of high school and out of trouble, and Tsering, a Tibetan immigrant struggling to make a life for herself and family after the death of her husband. A wonderful glimpse into the lives of people we would never otherwise meet.
The Cabin Movie (2005, Canada)
The first feature from local director Dylan Akio Smith and writer Kris Elgstrand, the cabin movie is a smart, funny and perceptive look at sex, relationships and expectations. Three couples agree to meet at a cabin for a weekend of inhibition-breaking sexual shenanigans. They are going to make a homemade porn film. Tension escalates as the characters experience with lust and intimacy give way to anxiety and desperation. The film features a strong cast with Brad Dryborough giving a great and funny performance as the anxiety ridden Mark.
The District (2005, Hungary)
This animated gem was a blast. Raunchy, political, and a little bit twisted, this film went in very different directions than I ever dreamed it would. Set in a ghetto in Hungary, the film follows a group of colorful locals as they try to save their homes. Prostitutes, corrupt cops, thugs and time travel are all involved, and the film even has some musical rap style beat down sequences which at first are a little unsettling, but are actually pretty funny. The animation is great, and the characters really come to life, which may tell you a lot about life in the District.
Icebreaker (2005, Canada)
Beautiful cinematography doesn't cover for the fact that not much happens in this documentary. Now, the film is well crafted as it follows a group of sailors in the Canadian Coastguard as they go on the first of a six week on, six weeks off journey up the northernmost coast, however this trip is reasonably uneventful, but such is the life of a sailor I suppose. Eventfulness usually does mean disaster. Indeed the landscape of the Artic, especially Iceberg Alley, is magnificent, but there wasn't even that much ice breaking. But did you know that they now let women on board? Progress.