Old Boy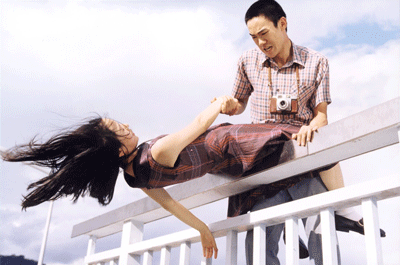 By Adam Thomas
Friday April 15, 2005
New Korean Cinema
For centuries Korea has struggled against its Asian neighbours. Invaded by both China and Japan, and finally arbitrarily divided into north and south, Korea remains a staunchly conservative culture. But this is changing. Reflected through cinema, South Korea has been the latest country to experience a renaissance of artistic expression. Like other conservative cultures, it's produced a community of filmmakers whose films are dark and disturbing, where the violence unleashed is a reflection of repression and frustration. More Korean films are making it into theatres and video stores here in Vancouver, and are some of the most gripping and original films since Japanese cult hero Takashi Miike unloaded his sordid mind. With films like the grisly serial killer thriller Tell Me Something ('00), South Korean cinema is the next big wave and director Chan-wook Park is on the point break.
Best known for his film Joint Security Area ('00) Park's films have been hugely popular in Korea with JSA being one of the highest grossing films in Korean history, second only to the assassination action drama Shiri ('99). Park's follow up to JSA was a dark and violent revenge film Sympathy for Mr. Vengeance ('02) that details the capacity in all of us to fall victim to anger and revenge. Sympathy marked a new direction for Park and put him alongside another emerging filmmaker, Ki-Duk Kim, as one of Korea's strongest and most disturbing talents.
Kim's films like The Isle ('00), about an obsessive erotic relationship between a suicidal man and a mute prostitute, and Spring, Summer, Fall, Winter, Spring ('03) have gained widespread notoriety and international acclaim, particularly for their remote and distanced approaches to the themes of taboo-breaking eroticism, suicide and human cruelty. While a dark and distressing thematic relationship may be shared between these two Korean filmmakers, their approach is remarkably different.
Where Ki-Duk Kim offers chilling tales of personal isolation evoked through quiet space and landscapes, Chan-wook Park's films are a more visceral and demented kind, closer to Miike's film Ichii the Killer ('01) than The Isle. So, all of this brings us to Park's latest film Oldboy ('04), which washes in to cinemas this Friday. A film that features the fantastic and prolific Korean actor Min-sik Choi (Shiri, Tae Guk Gi), the story follows genial Oh Dae-su as he is mysteriously kidnapped and imprisoned for 15 years with only a television for company and dumplings for food.
Struggling to maintain his sanity, Oh Dae-su goes through many phases of emotional grief, hounded by questions of who and why. After seeing a news report on the death of his wife and daughter Oh Dae-su becomes hell bent on revenge and spends years strengthening his will and body and digging his escape with chopsticks. Then suddenly he is released, and immediately begins his violent search for those who imprisoned him. Tearing through town with a hammer, knocking down everyone in his way, Oh Dae-su finally confronts his captor. But even here, director Chan-wook Park is not done with us. Oldboy is full of twists and turns and the mystery comes fast. Wrestling with violence and purpose, meaning and consequence, Oldboy is a violent and disturbing revenge thriller that delves into the strength and weakness of the human mind and ultimately, bleeds out the pain in the human soul.