Laszlo Kovacs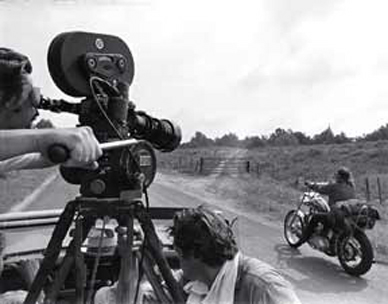 By Adam Thomas
Thursday August 9, 2007
Dead Eye
From their earliest beginnings cameras were seen as eyes with memories. The Kino-eye (cinema eye), as coined by early Soviet filmmaker Dziga Vertov, was the first declarative term used to express the power of the then-emerging art form of cinema to capture and reflect images. While we place special praise on the shoulders of directors for their vision, it is seldom the director who runs the camera, understands the light or constructs the frame. That is the is the job of the director of photography, more affectionately known as the cinematographer. And while there have been some milestone deaths in the last few of weeks by directors Ingmar Bergman and Michaelangelo Antonioni, we also saw the passing of one of the true great cinematographers, Hungarian-born Laszlo Kovacs.
As director of photography for films like Say Anything, Ghostbusters, and The Toy, he kept busy through the nadir of 80's Hollywood, finding those interesting projects that we all remember. However it was his early career, upon his arrival in Hollywood in the late 1950's that led to him becoming a iconic eye that captured the shifting will of an emerging and independent film movement throughout the 1960's and 70's.
In 1956 Kovacs and lifetime friend Vilmos Zsigmond were studying film in Budapest when the Hungarian Revolution started. What began as a student demonstration against the repressive Soviet Communist regime ruling Hungary quickly spread to become a nationwide revolution resulting in massive street protests in all corners of the country. Civil unrest spread quickly and the streets became battlegrounds between regular Hungarians and Soviet troops. With riots, murder and revolution in the streets, Kovacs and Zsigmond borrowed a 35mm film camera, placed it in a paperbag with a hole cut out for the lens and filmed the events of the Hungarian revolution unfolding before them. While the revolution led to a Soviet withdrawl and Hungarian independence, its success was short-lived and six months after Hungary had found its freedom, the Soviet army returned and began an unforgiving and systematic purging of those seen as revolutionaries.
And so, in 1957, with 30,000 feet of film in a case, Kovacs and Zsigmond fled Hungary and entered America as political refugees. With the events of the Hunagrian uprising now over they weren't able to sell the film until 1961 whew CBS bought it to use in a documentary narrated by Walter Cronkite. Regardless, Kovacs soon found himself in the world of b-films and biker pictures working on things like Ray Steckler's The Incredibly Strange Creatures Who stopped Living and Became Mixed-Up Zombies (1964) and Hells Angels on Wheels (1967). This was the training ground for what would become the who's who of Hollywood's maverick elite, with Jack Nicholson, Peter Fonda and everyone you can think of finding work thanks to Roger Corman , the b-film Godfather.
Soon after shooting Hells Angels on Wheels with Nicholson, they worked together on the 1967 counter culture classic Psyche-Out. And as reflections of the LSD-infused youth movement began to seep into public consciousness, Kovacs got his first truly big break: he was asked to be director of photography for Dennis Hopper's culture-defining Easy Rider.
Throughout the next decade Kovacs was behind the lens on several important films like Bob Rafelson's Five Easy Pieces (again with Nicholson) and The King of Marvin Gardens, Dennis Hopper's Last Movie, Peter Bogdonovich's Paper Moon, and Hal Ashby's underrated Shampoo starring Warren Beatty, Julie Christy and Goldie Hawn. This was the new golden age of Hollywood and Kovacs saw it all. Fleeing one revolution and arriving just in time for another he worked as the eyes for those directing the pictures in the new Hollywood, and he captured the freshness and vitality of his new. While Laszlo Kovacs has finally closed his eyes, it is a blessing that he utilized them to capture some truly beautiful moments on film. Even with him gone we can at least look back and see the world as he saw it.