Living Like A Dream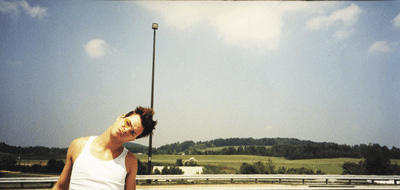 By Adam Thomas
Friday March 18, 2005
Jonathan Caouette's Tarnation
Seldom does the form and aesthetic construction of a film truly represent the subject it covers. The objective nature commonly expected from documentaries originated from the belief that subjects are more likely to tell the truth the less they are aware of the camera. But like so many journalists have proven, some subjects will reveal nothing unless provoked. Jonathan Caouette's first film Tarnation is the result of a life of provocation and is an all out gut-churning autobiographical documentary confession where he is both the subject and the mediator.
Tarnation is a film that is at the same time an experimental reconstruction of confusion and sadness, and a powerful story about the love of a son for his mother. Made on iMovie for less than $225 US, the film is a dizzying and eye popping visit into the mind of a family plagued by mental illness and physical and mental abuse, and for Caouette, one which has literally been a lifetime in the making.
Simply put, Tarnation is a documentary about the life of Caouette and the dramatic and tragic circumstances regarding his relationship with his mother Renee. But this does little to convey the power and emotion contained in the film. Constructed from over 160 hours of home footage that Jonathan had shot and accumulated since the age of eleven, the film is much more than the simple charting of a personal history. Blazingly mixed with original audio recordings, personal confessions from childhood, home movies, punk rock aesthetics and pop culture references, Tarnation transcends the basic organization of the conventional documentary. It shakes you into the troubled and confused mind of a boy struggling to find peace, love and his own identity in a world that has stolen all of these from his mother.
In the opening scene we witness the first of many straight to the camera confessions as Jonathan receives word that Renee, living in Houston, has just suffered a lithium overdose and may have irreparable brain damage. He decides to leave New York to go see her. From there the film retraces his family's history, beginning with his mother's childhood. This, done through photomontage and text inserts, charts a darkened and sad life, which has his mother possibly misdiagnosed with a mental disorder that leads to her being institutionalized and subjected to electro shock treatment twice a week for two years. The result was a life in and out of institutions, physical abuse and more personality modification. Then, in 1972 after meeting a door-to-door salesman, Renee gets pregnant and has Jonathan.
Together they live with Renee's parents Rosemary and Adolph in what ultimately becomes an unbearable situation. Because of Renee's instability, Jonathan is placed in foster homes where he falls victim to more abuse. Finally, returned to his Grandparents, he begins to search for outlets where he has some semblance of control. With a small home movie camera Jonathan begins to capture intimate moments of his life that are sometimes innocent and funny but often frightening, as he is all too aware of the chaos that fills his young life. The film continues through Caouette's mindscape as he fights to find himself and hold on to the bond he shares with troubled Renee.
Upon submission to the 2003 Mix Experimental Film/Video Festival, Tarnation was immediately championed by festival director Stephen Winter, who then passed a copy to director John Cameron Mitchell, who then passed it on to director Gus Van Sant. Both would sign on as executive producers and the film would be invited to Sundance where it garnered widespread acclaim. But really what is most remarkable and inspiring about this film is its density and tenderness. The situational and emotional depth provided by the years of accumulated footage could never be imitated or re-shot. This film could only exist as it is. Told as it is, with the actual moments of a human being's mind and pain captured and revealed by the person who lived them.