Catherine Breillat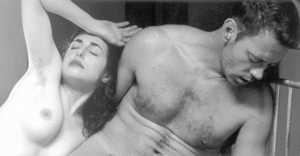 By Adam Thomas
Thursday March 10, 2005
There's A Hoe In My Vagina
French director and provocateur Catherine Breillat has become synonymous with controversy. With works like Real Young Girl ('76) and its surreal images of a girl experiencing a sexual awakening with bottles and worms, or Romance ('99) about a jilted woman determined to find the intimacy she longs for and does not find, Breillat's films are emotional and philosophical contemplations on the nature of female sexuality. While sexual in topic, be warned, her films are not sexy. Instead they are disturbing, often brutal depictions of the way sex defines us and the way we define sex for ourselves. They are heady films that leave you more likely to drink yourself to sleep than go home and masturbate…but then again, who knows.
Her latest two films feature this French shockstress at both her most confounding, and surprisingly, at her lightest.
Anatomy of Hell is a dark and distressing film about the beauty and the beast in all of us. The film, a contained examination of the notions of pornography and obscenity, operates as both commentary and very tangible investigation into the myths and secrets of the female body. A suicidal woman (Amira Casar) strikes up a strange bargain with the man (Italian porn star Rocco Siffredi) who saves her life. She offers to pay him a lot of money to spend four nights alone with her. All he has to do is look. No problem, except we find out that The Man is a woman-hating homosexual. Regardless, he agrees. What follows is an almost absurd psychological and gynecological exploration of the relationship between man and woman, sensuality and brutality and the nature of truth and love. Breillat deviously positions the role of the male lead as a "manly" gay man in an effort to generate a character as the epitome of total masculinity. No women here! For Breillat's world is still a rigorously patriarchal one and through the character of The Man she channels all of society's myths and taboos concerning men and women that are continually and implicitly taken for fact. In exploring the nature of the consequences of these unspoken beliefs she challenges us with the common failure of both sexes to transgress beyond the rule of the biological — the rule of the jungle. From menstruation to orgasms, the character of The Woman patiently and painfully begins to break down these boundaries and ultimately the moral identity of The Man. By inviting The Man to look, really look, at all that is unknown, unseen and unspeakable, The Man himself becomes intimate with the truth and reality he'd previously refused to see. There is shocking stuff the whole way through this film, all of it uncomfortable, but you have to hand it to Breillat, when it comes to exploring sexuality, she quite literally leaves no stone unturned.
The film Sex is Comedy is a pleasant, and perhaps relieving departure from her other films. On a movie set, Anne Parillaud is a director intent on finishing her film. All that remains to shoot is the sex scene. This turns out to be more difficult than it should be when the two leads prove to be incapable of any semblance of intimacy or passion. The girl is passive to the point of being totally vacant, the guy won't take off his socks and the prosthetic penis scene is laughable. In an obvious attempt to be self referential, Sex is Comedy is more about situational humour than laugh out loud funny, but after Anatomy of Hell so is a hoe in your vagina.
Anatomy of Hell and Sex is Comedy are playing as a double bill from Thursday March 10th to the 14th, 2005 at the Cinematheque