The WPP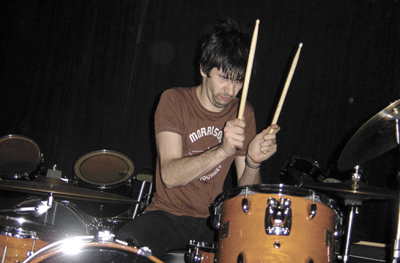 Touring where the girls have Le Style
What up rain city dwellers? It's a little hard to tell you about a two-month tour in condensed form, so I'm sorry if I left anyone or thing out. Why don't you cry about it on MySpace.
Before departing towards the east coast of Canada, we played shows in Red Deer, Drayton Valley and Edmonton. The highlight of that was the new '89 GMC van (Ryan and Brad put up the money and I'm extremely grateful) and playing again with our pals, The Wolfnote. In Drayton Valley, they have original fast food outlets called Dairy King. They sell elk, moose and regular burgers and have deadly Rolo milkshakes. Drayton Valley likes oil. Drayton Valley has a crystal meth epidemic so bad that the premier had to come down there and start twistin' caps.
The show there was… different. The band room in the Scouts' Hall was full of black label beer. And they let peeps drink and smoke inside. Of course, the cops showed up just before we were going to play. As the promoter got handcuffed, we politely asked for our money from Officer Bad Times.
And then the real shit began. We were ready to go, albeit nervous about the van making it through the frozen tundra that is Canada in the winter. We played the Canadian half as a three piece (Tom, our new bass player couldn't make it). Brad used a baritone guitar for some songs and Kyle Huck joined us (until Toronto) as a roadie.
In Whistler we played at a chalet-style kegger. Holy fuckchops, that was funny! A bunch of jocks with these spray-painted housecoats, their home made V.I.P lounge and a ratio of three hundred guys to three scared-looking girls. Full bar. Full, full bar. Night hazy. Slept in van… with it running… for five hours.
Edmonton, Cow Town and Dethbridge were good. We played Music Traders in the 'Peg. Best music store in that town. SNFU and Married To Music were playing across the street. Matt from SNFU got us in to their show for free. It was 1986 all over again. The weather was getting colder, and we were wearing Chuck Taylors for the duration of the trip. We hate the cold! We're pussies like that. But we didn't really have any heat in the van, and I got too used to not feeling my feet. The cold traps you.
You don't want to explore the magic that is Canada. You don't want to leave the place you're playing. You don't want to get out of the van to lose all the precious heat you've been building up for the last three hours.
We played at the Apollo in Thunder Bay. Hands down the best hospitality of the tour. We're talkin' real fresh pizza, perogies, salad, fruit, fries and a room to sleep in. Now I know what Celine Dion feels like.
Next we went to North Bay. We met the talented kids from Varge (spazzy punk with French vocals. They also play in Statues). I heard they'll be up here in April, so check 'em out. We also played at an open jam, unannounced, and that was rad. Ryan was jumping from amps and one girl knew all the lyrics to a song. I find the best shows are the ones that don't go as planned, or that aren't planned. Then we headed out to Toronto.
We met Amy, the promoter in T.O. where we played at this indoor skate park. It was packed, and we rocked to the best of our ability. We stayed with our good friend Jason from Van. We hung out at Sneaky Dee's Restaurant. As we were getting nearer to Montréal–the place where dreams come alive, poutine is plentiful, and the girls have le style–morale is up 240 percent.
Before departing for Quebec City, we pick up Hanna, our Team Party agent in Montréal. But before that, we stayed with Zsophia and Jenny in their rad loft near Jean Talon. Time was spent keeping warm, smoking in the stairwell, stealing cake at bars and drinking lots of coffee. Except for Ryan, he doesn't like the shit. Brad saw Spinal Tap for the first time. We celebrated on the roof. Can you say freezing rain? The van was covered with an inch-thick layer of ice and everything inside was frozen: gallon jugs, oranges, and your will to live.
Quebec City is beautiful. We played at a small club with a band called Malajube. I love French-speaking bands. We traded stories about real BC acid, music and touring. We had never been that far east before. Hanna came with us all the way to Halifax (now pronounced "Halifa," the "x" is silent). Some rad people live there. A band called Contrived played with us at the second show. And they put us up too. I vaguely remember going to a keg party after the show. We played Fredericton and there were some characters there. They fed us bottomless peanuts. They liked to drink.
Next we went west, back to Montréal. Andre was a promoter with magic powers. If it weren't for him we would be some sorry-ass motherfuckers. We played at Electric Tractor to many people who dug us. Our love affair with that city grew. What a rad venue: communal living, artist spaces and practice spaces. We stayed with Hanna and Jay Watts at their pad this time. Touring can be hard on the soul, wallet and body. Why the fuck were we touring in the winter? I guess we were just at a point that we would play anytime, anywhere.
We played at Ottawa's Club Saw. It was good. Then we played Sudbury twice, both with Varge. We knew their songs thanks to their CD being played a lot in the van. Fuck, those guys rule! It's always a treat to play with really good bands and genuine people.
And music in the van is so important to us. Some rules: whoever is driving gets to pick. Whoever is shotgun has to handle the physical act of changing the CDs. We had all of our collections with us and that's a broad selection (Thin Lizzy to Neil Young to Mars Volta to Jawbreaker etc.). The best music in the van moment was listening to the Beach Boys in the prairies in the insane cold.
We played Thunder Bay again, at a party. Drank a lot of brohemians, and Christian put us up at his place. He felt really bad about leaving me in the van. I passed out and it's pretty impossible to wake me up. It was minus 40. I stumbled in later and nothing had fallen off my body due to the frigid cold.
We had been on the road for almost a month at that point. That's the longest we had toured together. We all know each other really well and that's longevity in a band. Everyone needs to get their space alone, or else it's like that movie Alive and you start to lose your mind and end up dining on some poor sap's supple flesh.
We played the 'Peg again and Saskatoon. Those shows were really good, and we were running out of merch. Enter Edmonton: the home stretch. We reunited with the Wolfnote peeps, and played with their black flag cover band, Nervous Breakdown. I felt like I was 16 again and got in the pit. I met up with my friends Trevor and Evan. Evan is putting out a vinyl version of He Has the Technology on Reluctant Recordings.
The last Canadian date was at Broken City in Calgary. Fake Cops shared the stage, and we were tired. It was a good time, but we were looking like something Paris Hilton coughed up. Jon knows how to have a good time.
We drove through some hard conditions and made it home safe. I don't drive; I'm the gas bitch. But man, there were some pretty scary drives there. We were home in time for Christmas and then we left for tour to California. We arrived in LA to meet Brian (label head, drinker, shooter of bee bee guns) for New Year's. More on that excursion next time.