Nobunny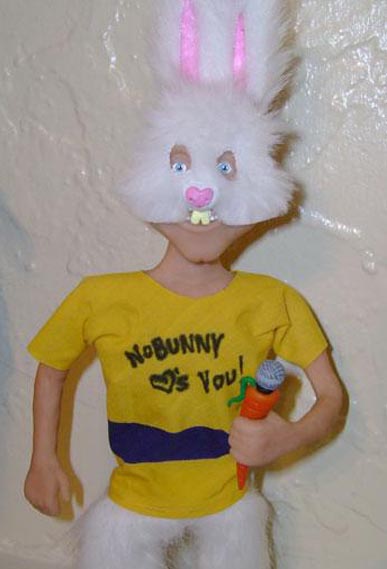 By JennyC
Saturday May 24, 2008
When I was little I wanted to be invisible. I liked the idea of being able to steal quarters from my mom's purse without her knowing. I used to put a shopping bag over my head and sneak into her room. It never worked out. I should have picked a different secret identity, one where I wore a bunny mask and drunkenly stomped around on stage… Maybe then I'd have a new record out and a girl from an online magazine asking me questions about hamburgers, which I'd never respond to.
ONLY: So it's like a barn yard with you guys, you've got a (No)bunny, a (So)cow and you're even playing with a (Van)cougar on your Vancouver tour date. What's the story with the whole animal theme?
NOBUNNY: Animals rule the nonsense. Fuck a human. Would you rather mop n fry or ____ N fly? Get Nasty. Get Primal. Animalistic!
ONLY: Are you bringing the same musicians along to back you on this tour or will you just recruit from each city as you often do?
NOBUNNY: This tour is going to be myself, Trent "Talent" Purdy (Okmoniks, Sneaky Pinks), on bass, Jason "Tango" Testateca on drums, and Mr. Brian "So Cow" on guitar.
ONLY: OK, best animal band ever?
NOBUNNY: Ol' Dirty Bastard
ONLY: What happens to your pants at a lot of shows?
NOBUNNY: You'd have to ask them.
ONLY: People really seem to like you, what's the weirdest thing a fan has done so far?
NOBUNNY: Somebody gave me a BJ on stage in Cleveland at Tower 2012!
ONLY: That's not weird, that's awesome! On the topic of awesome stuff, you played on a TV show called "Chica-go-go" on Chicago Access Network, what was that like? How has your life been different since that experience?
NOBUNNY: I've spent a lot of time in Chicago and let me tell ya, it's a great town – something for everybody. So many great things but the best-o numero uno thing-o is Chic-A-Go-Go! Tons of fun for everyone! Jake and Jackie Austen (heroes of mine) run the show. Jake also does the best zine of the last twenty years called "Roctober". Anyways playing there was a dream come true. I saw the Zero Boys the night before I played and was really hungover. I also ate a sausage and raw onion sandwich right before I went on. I thought I was going to die! Then, to top it all off, when I got there they played the wrong song… but it seemed to work out well. I've gotten more responses to that appearance than anything else I've ever done.
ONLY: Well your Nobunny dolls are pretty rad. Are they available from merch at your shows?
NOBUNNY: The dolls are mail order only! Each one is handmade to order, so no merch table… sorry!
ONLY: As for your new LP, how did you end up releasing "LOVE VISIONS" on bubbledumb Records? And who is bubbledumb?
SO COW: bubbledumb is a dude named Dave. He was the first person that asked, so I said yes!
ONLY: So I have to ask, is there any friendly competition between you and The Rhythm Chicken?
NOBUNNY: I love the rally rabbit! We have corresponded briefly and discussed playing together, but nothing has happened yet. He's my brother from another mother.
ONLY: In the movie of Nobunny's life, who would play you?
NOBUNNY: Hopefully someone nasty, like George Kuchar, Gary Coleman or George Clooney. Loony-Clooney Vision! Sid Haig would be cool too… Rosanna Arquette is my final answer – I have her ear tattooed on my body.
ONLY: Which best describes your music, a hotdog or hamburger?
NOBUNNY: [No Response… whatsoever]
ONLY: Finally, what is the best secret identity song ever?
NOBUNNY: "Two faces have I" – Lou Christie
For tips on how to create your own secret identity, go see Nobuuny (Oakland) with SoCow (Ireland), Vancougar & Dead Ghosts Saturday the 24th at Pub 340.