Joey Casio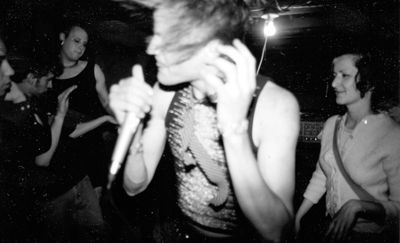 World's Smallest Punk Band
The first time I saw Joey Casio it was in a super dingy basement with dirt walls and floors. As soon as everyone started dancing the room got so full of dust you couldn't breathe. The dust got into all Joey's electro-gadgets and sequencersizers and he lost a bunch of songs. But it was worth it. I've never felt a house shake as much as that one did.
ONLY: How is tour so far?
Joey Casio: It's pretty good. We've played all sorts of shows. We played inside a record store with all the shelves cleared out in Chico, California. We played at Gay Prom in Palm Springs.
ONLY: Gay Prom?
JC: Gay Prom. It was incredible. That was one of the best shows I've ever played. It was at a rented ballroom packed with the weirdest kids from high school all dancing around.
ONLY: Were they wearing full prom get-up?
JC: It was sort of high school punk-goth dressed up for prom. Ranging from people that seemed like they were too old to be there–weird goth dudes–to girls that looked like they were in middle school slow dancing together.
ONLY: Are you playing lots of gay bars this tour?
JC: Yeah, mostly because Scream Club booked the tour. That's kind of their niche. It's fun.
ONLY: I totally can't picture you touring except for a full on house party tour.
JC: Yeah, there hasn't been much of that. If I booked my own tour there'd probably be more of that.
ONLY: Is that your favourite kind of show to play?
JC: It's definitely my favourite kind of show to play. I just got back from DC and New York–I spent a week out there with Tobi (Vail)–and played a couple of shows there. We played a terrible place in New York: a bar where they just didn't care that bands were playing. In fact they seemed bummed about it. The stage was way in the back and there was a foosball table right in front of the stage. There were people playing foosball right in front of me, so I jumped off the stage and walked around on the foosball table. The bar owner was this older guy and he was like, "We have a big stage for you! Why do you jump off the stage?" But then 2 days later I played in Arlington, which is a suburb of DC. It was a house party and it was packed with people and everyone was dancing and drinking and having a good time. It was more my vibe for sure.
ONLY: I heard you played with Metal Urbain.
JC: I did play with Metal Urbain. It was crazy. I mean, the show itself wasn't that crazy, but it was just really weird that it happened. I didn't really get to talk to them at all. Plus they don't really speak English.
ONLY: Who else have you played with lately?
JC: I just played with the Vanishing in Oakland, which was cool because it was one of their last shows. I think they're breaking up. I played with Les Georges Leningrad, which was cool. I can't really remember the show. (Laughs)
ONLY: I like that you cover a Screamers song.
JC: Yeah. I play "If I Can't Have What I Want I Don't Want Anything." Screamers are probably my favourite band of all time. Because ever since I was 17 or 18 I had this idea in my head that I'd start a punk band that was all electronic. I didn't really know that there were already bands that did that. When the Screamers reissue came out I was totally inspired.
ONLY: Are you a punk band?
JC: Yeah, Definitely. I guess I incorporate other things–hip-hop rhythm sense, instrumentation from dance music and stuff like that. I try to make it a punk band. That's the mission statement of the Joey Casio Band.
Joey Casio plays at the Lamplighter with Nons, Channels 2 and 3 and Not Now, Saturday, May 22, 2005