St. Paul's Hospital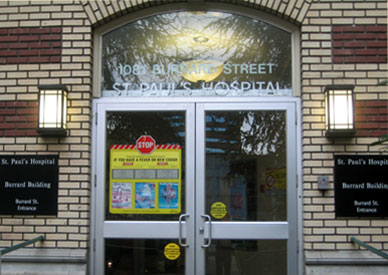 By David Look
Monday January 21, 2008
How perfect it would be! Dining in bed at a facility that could not only feed me, but accommodate me in a room for an extended period of time with a television and a staff of women dressed in their pajamas to mind my every whim round the clock. I thought of a myriad of ways to get myself booked into St. Paul's Hospital so that I could review their food and enjoy the hospitality offered there to the fullest extent possible. However, short of snapping my leg in half, every illness I imagined faking involved admittance under a liquids only meal plan, which was unacceptable. A visit to St. Paul's main dining room one Sunday afternoon would have to suffice.





Standing at 1081 Burrard Street since the beginning of the century, with its striking red brick, Renaissance styled architecture, white terracotta trims and ornate stone work around the windows, St. Paul's is a visual delight in an endless parade of generic glass office towers that surround and threaten it. To date, St. Paul's must be the holiest place I've ever eaten at. There are big white crosses on all the exterior walls, and the actual building itself is designed in the shape of a cross. There's even a large white statue of St. Paul himself high above the front entrance, welcoming in diners with open arms.
St. Paul's is really clean and safe. They have an evacuation plan should there be a terrorist attack or something of that nature, and guests are encouraged to wash their hands at little cleaning stations posted throughout the building. Everything is designed to ensure that your visit there is a pleasant one; you can't use your cell phone at St. Paul's and they don't like people coming in if they've recently been sick. The hallways are thankfully painted with little road maps on the floors because the dining room is a bit hard to find. My pace quickened as I thought of filling up my plastic serving tray with delectable items of my choosing, but the long walk there was entertaining enough to appease my appetite. Everyone seemed to be very relaxed, especially with regards to their attire. The staff at St. Paul's dress in mostly dark coloured pajamas paired with really white sneakers, while the guests can be found in all sorts of states of undress and casual attire. I saw one fellow using a bank machine in a fetching blue robe and brown slippers, and another guy in his room, slouched over his food with no shirt on at all. I was tempted to inquire what he was being served as it all looked so tasty, but he seemed unresponsive.





When I finally did arrive at the fourth floor dining room I was disappointed to find a very limited menu. The Grill and Deli areas were closed, which left an Entree counter and a self serve salad bar that looked appetizing enough until I heard two guys dressed in pajamas that walked in behind me discussing it, "Just don't take anything from the salad bar, the psych patients like to put stuff in the coleslaw." That revealing bit of information left one option for lunch, which was a guy standing in his pajamas and a hair-net behind the Entree counter, ready to dole me out a heaping square of meat-loaf.
The restaurant itself was lovely though. Large and decorated in a light pink color, it had tables to accommodate small groups, or booths that could comfortably seat large parties. The whole place is surrounded by windows that look out onto the city's West End, and a patio area which would be wonderful in the summer. However, my meat-loaf left much to be desired. A terrible shade of beige and overly minced, I began to question if it was even actually meat or not. It was topped with a dark mushroom gravy, paired with rice and seated beside a helping of soggy vegetables. It was a fair amount of food for the reasonable rate of $6.37, and at least I didn't have to live in fear of discovering the snot of the mentally ill lurking beneath the green beans. Still, while Saint Paul seemed to have a handle on hosting a wonderful and laid back facility, the food at his flagship Hospital was seriously lacking in both taste, adventure, presentation, and most of all, variety. There's no booze either – how everyone appeared so relaxed remains a mystery.





Bored with my lunch I couldn't help but listen to some of the conversations around me, all of which seemed hushed, dramatic and serious. The topic of discussion at nearly every table was that of health. There were all sorts of illnesses being outlined in detail along with descriptions of how people had died. One older woman kept having to repeat herself to a member of her wheel-chaired party that seemed half dead themselves. "No, not his neck, Ted, his throat. His throat ,Ted, yes, his throat." She got louder each time she had to repeat herself. It was all a bit depressing, so I decided to focus my attention on a group of attractive looking women that were all dressed in their pajamas. I found it mildly erotic and even considered batting some lashes in their direction between bites of my meat-loaf until they were joined by a male friend of theirs who was taller and much better looking than me.
Unlike most of the people seated at St. Paul's, there was nothing wrong in Dr. Love's world. (At least I assume he was a doctor since he was the only one not wearing pajamas, and the way he held court with the ladies gave hint to some sort of authoritative admiration.) No descriptions of the phlegm that needed to be drained from his friends' nasal passages, or terminal descriptions to seemingly comatose luncheon dates. Instead, Dr. Love had all the girls giggling with flashes of his perfect white teeth, holiday tan, and dark hair. He was the antithesis of my scraggly hair that was perfumed with the smell of stale cigarettes from the bar I was at the night before, which also left me with a big red bunny stamp glowing from my left hand that gave away the fact that I still had not bathed. Rocking back and forth just to try and get through my remaining meat-loaf, I decided it was a hopeless case and turned my attention to a woman in a pink robe with a big clear bag of fluid draining into her hand that was hanging from a metal coat rack beside her table. She got up soon after I noticed her though, and wheeled her apparatus through the dining room at a gait that suggested she was in some kind of pain.
With culinary and companionship options exhausted, and Dr. Love making me feel even grosser than the two pound meat-loaf I had just consumed, I decided it was time to begin my journey back through the halls of St. Paul's Hospital. Following the coloured trail that would lead me to the entrance from which I entered, I couldn't help think that I had missed out on the spell of the full St. Paul's experience everyone else seemed to be under. Catching a glimpse of my reflection in the mirror though, I comforted myself with the realization that it's only a matter of time before I am eligible to receive the hospitality I know St. Paul's is capable of. Three meals delivered to my door everyday, a bed that can be adjusted into every position possible so that you never have to leave it, lazing away time, half dressed with little to do but watch television, and all within the historical atmosphere of St. Paul's. When that happens, I assure you you'll be the first to know.