ONLY Remembers Harold Lloyd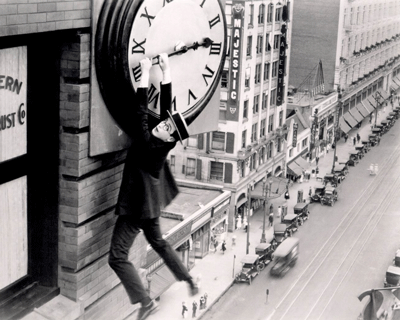 By Adam Thomas
Sunday June 7, 2009
The third most famous comedian in silent movies.
Before the modern era of sound, movies had to tell a story, quite literally through action. While there were slates offering moments of written description or even dialogue, the vast bulk of early movies was carried by the action the characters displayed on screen, and nowhere is this more focused than in the silent comedies of the time. While this purity of action is most simply demonstrated in the slapstick romps of acts like the Keystone Kops , throughout cinema's early history, performers, and particularly comedians worked out gags and sequences that are both rich in action as well as in pathos.
It is no surprise then that those actors who managed to take the concept and practice of "action" to the extreme became indelible figures in the history of cinema. To that end the two most prominent and successful figures remain Charlie Chaplin and Buster Keaton . But against the artistic genius of Chaplin and the indestructible ingenuity of Keaton there exists another soul who's name is often forgotten, but whose contribution to the history of cinema, though often overlooked, is equally important.
With over 200 films to his credit, Harold Lloyd began his career after having seen a Thomas Edison moving picture in 1913. Soon he teamed up with producer Hal Roach and between 1915 and 1917 they produced over 60 short one reel comedies. Largely focusing on a simple story of boy sees girl, boy wants girl, these films were slapstick in nature often featuring a character named Lonesome Luke , directly inspired by Chaplin's successful persona of The Tramp. Despite mediocre success, Lloyd began to search for his own character and by 1918 he devised a character, always named Harold, who with round glasses would prove to be Lloyd's signature and most successful persona. Presented as a regular guy, he was always hard working and resourceful; who as a bit of a romantic go-getter, struck an immediate chord with audiences as someone they could relate to. True to form his films were filled with physical daring and thrilling action sequences and by the 1920's Lloyd had taken his short one reel character into the age of feature length films and at his peak in the mid 1920s out grossed both Chaplin and Keaton, making him the most financially successful comedian of his generation.
As the Keystone Kops continued to run zig zags across the screen, both Chaplin and Lloyd worked to develop the art of cinematic comedy. Not content to rely entirely on a gag-joke-gag formula each strove to breathe life into their characters and Lloyd's 1922 hit Grandma's Boy , like Chaplin's 1921 classic The Kid took comedy to new heights by introducing stronger character development and situational humor. While Chaplin's work channeled poverty and the misadventures of the Tramp and Keaton's comedy provided startling escapades where the never smiling actor managed to tumble down streets in a tornado or avoid being crushed by a collapsing house, Lloyd took to the technical possibilities that cinema offered to create his thrilling masterpieces. While as equally daring as Keaton, Lloyd combined elaborate situational set-ups, specific camera angles and precarious sets to deliver his own form of movie magic. For his film Never Weaken (1921), Lloyd built a set above a New York tunnel and from a specific angle managed to create the illusion that when hanging from a iron girder, that he was dangerously high up, when in fact he was never more than three stories above a safety mattress. The tension he created then is so convincing that even today the film remains an absolute thrill to watch. These were the original stuntmen, dangling here and balancing there, risking it all; each an actor, writer and producer in their own destiny.
Like Chaplin and Keaton, Lloyd was a true pioneer whose work spans the periods and embodies all that cinema has to offer. It is thrilling, funny, dangerous and smart, and technically, as innovative for its time as Citizen Kane would be, almost twenty years later. Yet while his name is almost forgotten, his contribution to the art of cinema extends past his recognition. As with Chaplin and Keaton, Lloyd put himself – his body and mind, on the line. But while audiences may not remember the source, his films, like Safety Last! (1923) with the character of Harold dangling dangerously from the hands of a large clock on the side of the building, constantly offer imagery that even today, remain etched in our collective consciousness. I guess it's just tough being the third most famous comedian of the silent film era.