Extreme Appetite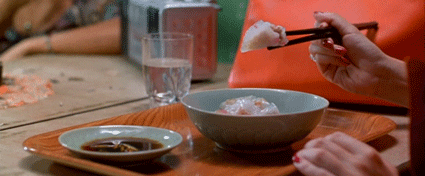 Eat your own Egg Foo Young
Somewhere in the recesses of our human programming are the collective limits we dare not cross. Within these intercultural boundaries it is generally recognized that killing, eating, or fucking your own is just not on. While North American filmmakers and audiences are still lapping up the gore with adolescent shockers (now mostly lame remakes of better Asian horror films), the real grit is being burned to film by filmmakers from across Asia, who seem quite content to make movies that will leave you traumatized, frightened, and weary to ever eat again. The recently released horror anthology 3 Extremes brings together three of Asia's most celebrated shocksters, each contributing a short 40-minute installment. While Japan's master of distaste Takeshi Miike (Audition) offers a strange and surprisingly restrained effort with his short film Box, and Korea's revenge-themed rebel Park Chan-Wook (Olboy) tackles familiar territory with his film Cut, it is Hong Kong's largely overlooked director Fruit Chan who contributes the most disturbing and nauseating film on this two-disc anthology.
Aptly titled Dumplings, it daringly and controversially catapults across as many taboos as possible, and I don't know if it's better to watch after you eat or on an empty stomach. Gorgeously filmed by cinematographer Christopher Doyle (In the Mood for Love, 2046, Hero) Dumplings' look perfectly echoes its theme, as the beauty of the image almost obscures the truly sordid aftertaste of what's really happening. Presented in both the abbreviated and feature-length version, it is the story of Mrs. Li (Miriam Yeung), a thirty-something, forgotten actress determined to preserve her youth and beauty. To do so she pays a visit to Aunt Mei (Bai Ling), a youthful looking beauty that claims she is much older than she looks. Mei also makes the most expensive dumplings in Hong Kong. But there is something strange about them. Maybe it's the slithery exterior? Or the crunchy filling inside. After eating Mrs. Li returns to her husband. With renewed virility, she becomes the sexual aggressor, even having her way with him as he rests in a hospital bed with a leg in traction. Happily, she goes back for another, more potent dish of magical dumplings.
It turns out that Aunt Mei is putting ground, aborted fetuses in
the dumplings and that's what gives them their power. Having already experienced their effects, Mrs. Li eagerly wants more and Aunt Mei goes to the hospital to collect some filling. As things escalate it also turns out that Aunt Mei is a bit of a "Vera Drake" and performs abortions for ashamed neighbourhood girls. After assisting in the termination of an unwanted boy, Mei, believing the fetus to be powerful, eagerly cooks it up. Unfortunately she ends up serving a dish of dumplings made with the aborted fetuses of an unwanted incestuous rape, and when the mother-to-be dies in the street from massive blood loss, Mrs. Li gets ill. Amazingly at the doctor's office she discovers that she, having been previously barren, is two months pregnant. When she returns to Aunt Mei's with the news, Mei is gone. Confronted with the reality of a baby on the way and no more magical dumplings, Mrs. Li reluctantly goes home and does what a woman does; draws a nice warm bath. Then she aborts her own fetus and eats it. The end.
Mildly contested as misogynist, Dumplings is a beautifully composed, disturbing parable where vanity has a totally sick price. And sure eating babies is gross but so is looking like you're 19 when you're 60.