Tripped out childhood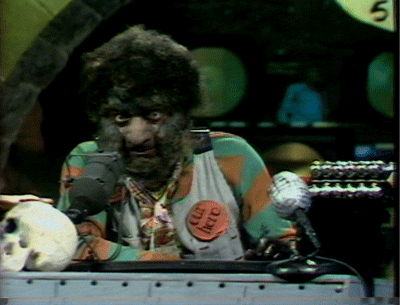 Billy Van's one man gang We all have them. Those fragile childhood memories that seem like vague dreams of people or moments that only exist as foggy images. For me, many of them consist of Saturday and Sunday mornings in the television room in the basement of my parents' home in Edmonton. In the mornings, I would scramble downstairs with a bowl of sugared cereal and turn on the TV. Chomping away I would watch, square eyed, as programs fed me images that to this day still linger in both my con and sub-conscious. After years of searching, one of the most influential and formative shows from my childhood has finally been released on DVD, while also finding new life on CHUM's Drive-In Classics. If you've never seen it you'll be amazed that it ever existed, and if you do remember it you'll have a blast reliving it.
Welcome to The Hilarious House of Frightenstein.
It opens with a flash of crooked purple lightening. As the howls of wolves and screams of fear echo in our ears, a disembodied head of the master of campy horror, Vincent Price floats across the screen, inviting us to enter the dark and strange world of Castle Frightenstein. Then begins the music. A carnivalesque number composed on a Moog synthesizer, it brings us into the Castle where we meet the central character of Count Frightenstein and his bumblingly rotund, green assistant, Igor (Fishka Rais). Banished from Transylvania for failing to revive a Frankenstein—like monster named Brucie, the pair have been relegated to a second rate castle until they can bring Brucie back to life. This is as much story as the show offers, but the content and characters are the real reason to watch.
The brainchild of Toronto actor Billy Van and Canadian television producer Riff Markovitz, the show, consisting of 130, 60-minute episodes, was produced over the course of nine to twelve months in 1971. Produced by Hamilton's independent television broadcaster CHCH, it was a strange and psychedelic skit based show that featured lead actor Van performing over nine of the central characters (credits read: Billy Van, Billy Van, Billy Van, etc. and Vincent Price). Filmed completely out of sequence, all of the individual character segments were shot together, and then the show was edited together from all of the pieces. Consequently the actors would spend weeks at a time playing a particular character. One part campy horror fun, it mixes left brain tangents with semi-educational segments featuring spooky and kooky characters.
The Hilarious House of Frightenstein was more than just a kid's show. With characters like the seemingly drunk Grizelda the Ghastly Gourmet and stoned out Superhippie, the show is peppered with "Far Out's", "Groovy's" and "Can You Dig It's" making it a wonderful cultural capsule. For the musical sequences electric psychedelic backgrounds takeover when radio DJ The Wolfman and our friend Igor dance to 60's and 70's music that The Wolfman plays on his show. Then there are legitimate learning moments with Professor Julius Sumner Miller as he discusses and demonstrates his understanding of physics and mathematics, and with odd DR. Pet Vet who only features relatively common everyday pets; all of this and more on a Saturday morning. When Billy Van died in 2003, many worried that the show would be forgotten about, existing only in memory. Happily, that is not the case and this made in Canada piece of magic is out there again now, ready to mess with another generation of kids' minds.