Paid Vacation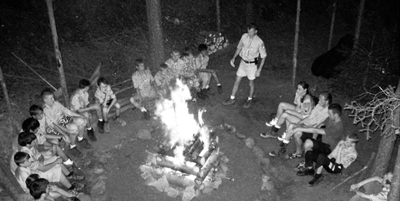 Chasing The Muff… Out With A Bang
In honour of Summer and the glories attached (burning, drinking, copulating), we're doing what all true Vancouverites do for the season; quitting our jobs for two months and "hanging out." Ending on a high note with Music Waste, we'll be back with our comeback issue on August 1st. Expect some things. In the interim, check the website for weekly updates. So you don't lose track, here's where we'll be for the next two months.
Adam: It'll be nice to never have to think about Star Wars again, unless they make that TV show. Like young Indiana Jones but in space. I've recently become paranoid about skin cancer and any bizarre mole growth, so mowing the lawn shirtless is out of the question. At least my neighbours will be relieved. It can get weird when I get drunk and mow the lawn topless.
Alan: I've never had a proper sex dream. At the crucial moment, when some gorgeous being is offering to share experiences I don't even understand, I get distracted– I was attacked by a raccoon, once. Its eyes still haunt my nightmares. Dreams. Winking. Come with me to the river, winks the raccoon seductively, we'll wash our food with our almost-human hands… So, working on that.
Amil: While Only is on vacation I plan on starting a 'zine for alienated teenage boys and overweight dads. Any remaining spare time will be devoted to working things out with my analyst.
Ben: Hopefully I'll get to catch up on some sleep. And oh, my parents just found my old Lego King's Castle set in their basement (it's Model# 6080 for those keeping track – pretty sweet eh?) so I'll be working on assembling that all summer. If you ask me nicely, I might even bring it to the next Joel Tong show for all to play.
Chuck: I'm really digging on steak and eggs for breakfast these days, so that might be a good summer deal. And I haven't been to the dentist in years, so my teeth are rolling in cavities I'm pretty sure. Also, I wish we were going on summer vacation a week or two later cause I was so down with talking to Raekwon, but whatever.
Curtis: I am hoping to keep on writing for the Only website, as well as looking forward to getting some use out of my Speedo at Third Beach. I'll also be going places I've never been before, in a car.
Kaf: This summer I'm going to be kidnapped by my parents and driven through the Rockies. Barring that I hope to marry a Canadian and escape from the wedding inside a giant cake on wheels.
Martin: I'll be using the off time to collect my thoughts and rework some stuff I've been working on. If you don't see me around its because I'm in the studio finishing off some tracks and shooting a video for a solo EP that will be coming out in the fall.
Naomi: Don't expect to see me in the city at all this summer; I'll be in the forest. After being disenfranchised from recent provincial politics, I'm going to the Island to find my roots and found a BC Wicca Party.
Sarah A: In exchange for finishing fat camp this summer, my parents have offered to pay my tuition at the Barbizon Modeling Institute.
Sarah C: For most of my summer holidays, I will probably be apologizing to bands mentioned in the Official Music Waste Guide. And also people who weren't mentioned, like Sean Wesly Woods. He's probably happier to be left out. A few things that made it past the you-will-burn-in-hell-if-you-print-this filter: "donkey sex" and the use of the word "homo" in a derogatory sense. Sorry. Other than that, just send your fancy press kit bio and we'll cut and paste from it next year, K? remember, if we didn't like you, you wouldn't be playing.
Sean: I will be splitting my time between foiling terrorist plots at the airport and consoling my 50-year-old roommate because he keeps losing at Russian roulette. I'll also be fronting as a hype man for a Hungarian death metal band called A Horse's Prick in Your Ass.